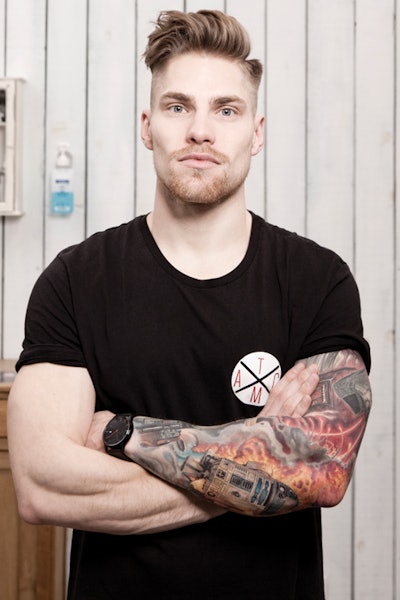 If your clients want to create lift without shine, you need to teach them how to prep, style and finish—and that includes using the dreaded blowdryer.
Your client wants some height to his hair, but he doesn't want it to look shiny and stiff. Products have either left his hair greasy or limp—and don't even get him started about trying hairspray. 
The pompadour gained popularity in the mid-1700s, when French royalty began wearing larger-than-life coifs. And although the era's decadance may be looked down on by history, the hairstyle has maintained its iconic status, says Steve De Caro, Eufora national trainer. "Today, the pompadour is as fresh and modern as it was at its inception," he maintains— provided it's styled in a carfree, shine-free way, of course.
We teamed up with some top barbers and stylists who share how to create a perfect pompadour that's more James Dean, less Elvis Presley—just right for today's discerning gents.
The Prep: For guys who want to rock the pomp, they have to know there will be work involved. But the good news is that once a solid foundation is laid down, the style will stay strong all day long. Matt Beck, stylist and creator of YouTube's Free Salon Education, likes to prep longer hairstyles with gel. "A lot of guys don't think about doing that— they don't even think about using a blow dryer—but it's so key to getting that perfect style," he says. This would also be a great time to add in a thickening product like Esquire Thickening Cream, says Joost Mulleman, Esquire European barber ambassador.
The Blow Dry: "The most important step, in my opinion, to styling a pompadour is to use a blowdryer," says Layrite barber Shon Lawhon, who acknowledges that most men may not be accustomed to using one. But use one they must, he says: "Blow-drying your hair will create the base shape and elevation necessary for the style." Beck agrees, and adds that directing the hair up while blow-drying helps to keep it elevated all day. Also, make sure your clients know that simply slapping product onto wet hair ain't gonna work. "As soon as you put product into wet hair, it dilutes the product and you don't get the end result you're looking for," Beck explains.
The Shine-Free Finish: Today's men want relaxed styles that look effortless and unfussy—even though they took a lot of hard work to achieve. For many men, that means hair with a matte finish. There are many shine-free pastes, pomades and clays available for your guys to play with. Just make sure to show them how to apply the product properly, says Lawhon. "Start with the sides, then move to the top," he explains. "Save the front for last. The front of your hair will require the most because you will need the added strength to hold your pomp."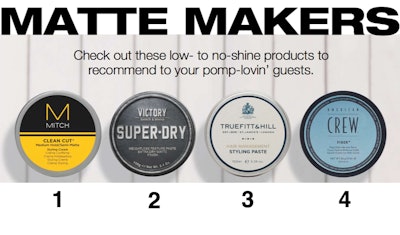 1) Mitch Clean Cut: Creamy and pliable. 
2) Victory Barber & Brand Super-Dry: paste with a log cabin scent.
3) Truefitt & Hill Styling Paste: touchable hold for shorter styles.
4) American Crew Fiber: cream with strong hold. 
[Images: top - Getty Images; bottom - each brand]