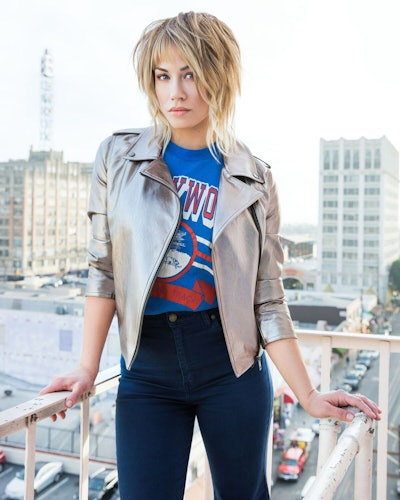 Move over lob! There's a new 'do in town, which Andrew Carruthers, education director for Sam Villa, dubs the modern shag: "This new shag is just as layer-heavy and laid-back as the shag of the past, but it has a much softer approach and can be adapted to more hair lengths," he says. The modern shag is full of movement, structured modern lines and a disheveled silhouette. Here, Carruthers explains how he created the above look, called "City Lines": 
-Apply Redken Anti-Snap leave-in treatment all over damp hair as a cutting lotion.
-Section diagonally from the mid-crown to the back of the ear on both sides.
- Take a pie-shaped/radial section in center back from mid-crown to nape.
-Elevate just above 90° from the shape of the crown, mirror that elevation throughout the section, and use the Sam Villa Artist Series Slide Cutting shear to slide-cut the lengths away, working shorter at the crown to longer at the perimeter.
-Use a small piece of the section as a traveling guide and continue with the next pie-shaped section.
-Maintain the same elevation (using the crown area to set elevation) and no over-direction. Cut with a slide-cutting technique to follow the guide. *** Don't worry about a perfect match as the look is highly textured.
-Continue to either side until reaching the first section from the crown to the back of the ear. Past this line, notice that the elevation will continue to get higher and higher because the elevation is set by the shape of the crown. 
-Continue with the same method to finish both sides.
-Take a triangle section in the fringe area over the right eye.
-Over-direct the outsides of the section to the center of the triangle creating a "triangular pinch," elevate 90 degrees horizontal (parallel to the floor) and point-cut with the slide-cutting shear for softness.
-Apply a heavy amount of Redken Guts 10 at the base of the hair and rough-dry in all directions to create natural-looking movement.
-Use the Sam Villa Artist Series Polishing Paddle Brush to wrap-dry the fringe area for control, and then use the same brush to polish just the ends of the rest of the head, leaving fullness at the base.
-Detail the perimeter, again, using the slide-cutting shear to maintain a wispy texture.
-For more texture, mist Redken Iron Shape 11 throughout and add random bends to the hair by wrapping the hair around the wand of the Sam Villa Artist Series 2-in-1 Marcel Curling Iron and Wand 1".
Credit: Hair/Sam Villa ArTeam; Photo/Katie Parker; Wardrobe/Brittany Hart; Makeup/Nicole Schimel