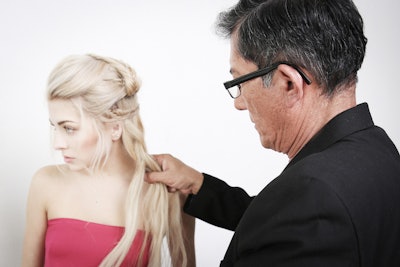 Whether changing up looks for the season, adapting a new trend or simply striving for efficiency, hair hacks can switch things up quickly and easily – and usually for little or no money because they utilize items already on hand. This month, Redken 5th Avenue NYC features 6 Top Hair Hacks from Sam Villa, Global Artistic Ambassador, designed to make hair look amazing for the spring.
Curl hair with a flat iron? Yup!
Use a straw to curl dry damaged hair? Why not?!
A chamois can create organic texture?  Sure!
Brushing hair with a toothbrush to tame flyaways? Absolutely!
"It's all about taking familiar items/tools and using them in new ways," says Villa.
Take hairspray, almost every household has a can because it's an extremely versatile styling product…but nobody likes the crunch factor.  To prevent this when working with Redken Control Addict 28 Extra High-Hold Hairspray, Villa recommends spraying hands or a makeup brush with the product and then applying it to hair. This hack helps the hairspray feel less sticky and crunchy on hair and gives more control over exactly where the product is applied.
[Image courtesy of Sam Villa]