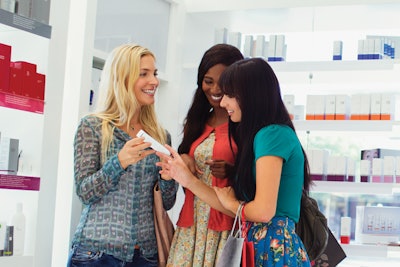 Have you ever thought: "I feel comfortable as an artist, but not as a salesperson?" You're not alone: Lash and brow pros stand behind singing the praises of their services, but when it comes to retail, they can feel as though they're being inauthentic. "Some people don't want to come off too [pushy] and are afraid of losing clients when they take on a salesperson role," says Kim Jaynes, founder of Borboleta Beauty. But, she reasons, "When you truly believe in a product, it shouldn't be too hard to sell." Here, Jaynes shares her tips and tricks on how to retail with authenticity.
Educate, educate, educate. "When you educate your clients on how to care for the service they received and [understand] the products you use, they'll be more likely to purchase products knowing that they'll help them," says Jaynes.
RELATED: Yelp Marketing 101 for Salon Owners
Offer expert product insights. Be ready for any and every question clients might have about a product. And, it should go without saying: "Make sure you really use the product so you can give your honest opinion and any tips you may have for using it," she says.
Display products prominently. When products are easy to see—especially in your waiting room—they spark clients' interest and require less sales effort from you. "Clients will often pick them up to look them over, which in turn leads to an excellent segue into selling the product!" Jaynes says.
RELATED: Beauty Marketing Pros on Optimizing Social Media Hashtags
Offer testers. The "try before you buy" model works, according to a report by independent research firm Knowledge Networks PDI that found 58 percent of the 1,800 respondents would buy a product after trying it. User experience builds trust in a products' performance—and, as Jaynes notes, "Once people try a product, they're more likely to love it and come back for more!"