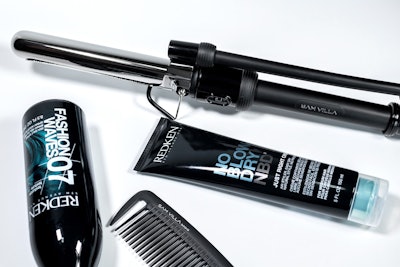 It's January, so it's the perfect time to remind the world that beach waves are not seasonal. Whether your clients are rocking beanies in Aspen or heading somewhere tropical to escape the cold, this classic style is the right look.
"The trick is to teach them a technique that takes minimal time and effort, yet yields impactful results," says Sam Villa, co-founder of Sam Villa and Global Artistic Ambassador for Redken 5th Avenue.
Here's a technique Villa uses to perfect the art of beach waves. It entails air drying hair and then finessing the texture with a curling iron to define curls, reduce frizz and add shine. It's the perfect way to polish tresses for evening after hair has air dried during the day.
 
Beach Waves
Apply Redken No Blow Dry Just Right Cream to damp hair.
Brush product through with a Sam Villa Wide Cutting Comb.
Air dry hair.
Add definition and polish to curls by curling frizzy and/or straight pieces with a Sam Villa Artist Series 2-in-1 Marcel Iron and Wand.
Remove the Marcel handle and work random sections with the wand. Wrap section around the wand, and removing the hair, pull the curl to stretch and soften movement to create a soft beachy wave.
Finish with Redken Fashion Waves 07 for the perfect sea salt textured effect.
"This can literally take minutes to do – it doesn't have to be perfect…just add enough bend in the hair to add interest and a polished finish," added Villa.
[Image courtesy of Sam Villa]