Color by George Papanikolas of the Andy LeCompte Salon in West Hollywood, CA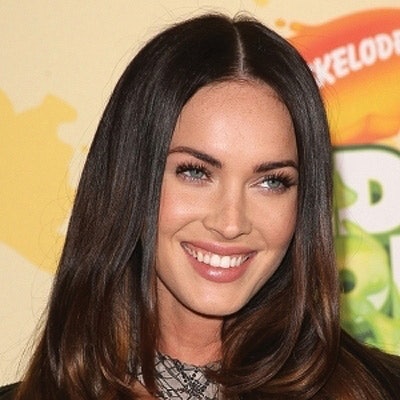 Even though George Papanikolas is fresh off the frenetic Britney Spears Circus Tour (where his grueling schedule included doing the ring-mistress' hair for 36 shows in 32 cities in just 10 weeks!), he still takes the time to chat it up with The Colorist about another of his fetching damsels: actress Megan Fox, whose starring roles in upcoming movies Jennifer's Body (2009), Jonah Hex (2010) and The Crossing (2011) show off her best asset...her hair, of course!
"I truly believe that haircolor formulas don't have to be complicated in order to create amazing color," Papanikolas reveals. "For Megan, I created a spectacular, warm, uniform brown by using two Joico Vero K-PAK Color shades—one for her regrowth area and one for her shafts and ends. Because I deepen Megan's natural haircolor a couple of shades, I use permanent haircolor and 20-volume developer on the regrowth to ensure that the hair still exudes shimmering warmth." He adds that Fox's hectic schedule and constant exposure to sizzling lights cause her shafts and ends to fall brassy. "I use a demipermanent formula on these areas to deepen and control the warmth," shares Papanikolas. "The results are a uniform, level 4, rich warm brown from roots to ends without causing any unnecessary damage to her hair."
Colorazzi Formula:
James Gartner, educator for Pravana Naturceuticals
Haircolor: Pravana Naturceuticals
FORMULA:
Pretreat: Pravana Sulfate-Free Clarifying Shampoo and Hydrating Leave-in Treatment
Base #1: Chromasilk, 30 ml 4 (natural brown tone) Zero Volume Crème Developer (regrowth)
Base #2: Chromasilk 6 (light natural brown) + Zero Volume Crème Developer (shaft)
Base #3: Chromasilk, 30 ml 6.35 (dark golden mahogany blonde) + Chromasilk Zero Volume Crème Developer (ends)
After Care: Pravana Naturceuticals Color Ensure Shampoo and Deep Hydrating Mask
[for•mu•la bar]:
Haircolor: Joico
Natural Level: 6
Existing Haircolor: Level 5, brassy
Hair Texture: Fine, straight
Hair Condition: Healthy, slightly porous ends
Prework: Joico K-PAK Liquid Reconstructor
FORMULA:
Base #1: Vero K-PAK Color, 60 ml 4N (dark brown) + 20-volume developer
Base #2: Vero K-PAK Chrome, 60 ml N4 (coffee bean) + Chrome Developer
Procedure:
Apply Base #1 on regrowth only; process 35 minutes.
Spray Joico K-PAK Liquid Reconstructor on porous ends.
Apply Base #2 to mid-shaft and ends, process for last 10 minutes.
Rinse thoroughly and apply Joico K-PAK Cuticle Sealer for 5 minutes.
Apply Joico K-PAK Deep-Penetrating Reconstructor for 5 minutes and rinse thoroughly.
Apply Joico K-PAK Intense Hydrator for 5 minutes and rinse thoroughly.
After Care: Joico Color Endure Shampoo and Conditioner. Treat weekly with Joico K-PAK Deep-Penetrating Reconstructor and Instense Hydrator.