When I first colored my hair back in the '80's, I got highlights. I would sit in the chair while a plastic cap was molded to my head with a warm blow dryer. My stylist pulled minute springs of hair through the cap with a knitting needle. When I looked something like a Chia Pet who hadn't grown a full coat of grass, bleach was slapped over the exposed pieces, and 20 minutes later, voila! I was a blonde! Well, sort of. I think by today's terms, we would say I was "frosted."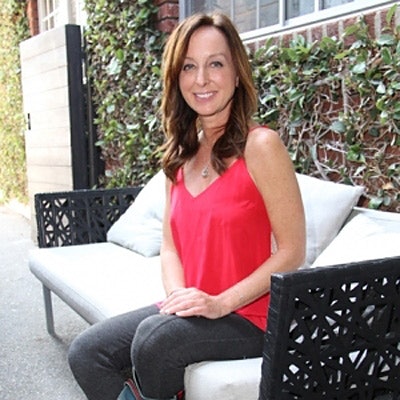 In 2013, our highlighting choices are far more abundant. Coloring caps are a thing of the past, and tools like foil, plastic wrap, and cotton have taken over. With the Internet and YouTube so readily available, clients and stylists have been exposed to many more highlighting techniques. Along with the various methods, there are a whole slew of "buzz words" used to describe them.  
   
How do you know what's right for you? Let's take a closer look at the options out there!
1. BALAYAGE/HAND PAINTING
The French coined this term, meaning "to sweep", and it's definitely all the rage in Hollywood. It's a beautiful way to give sun kissed, natural looking highlights. Traditionally it's done with bleach. Hair is sectioned off into pie-like slices, and thin, unstructured highlights are painted from top to bottom. The pieces start out finer towards the scalp, and get progressively thicker towards the ends of the hair. Cotton strips or plastic sheets are often used to separate the hair sections. This gives a more natural look, as the tips will have a heavier concentration of lightness than the top, mimicking how hair looks after a summer at the beach. It's also a quick method for those on a time crunch.
GOOD CANDIDATES: Medium to thick hair. Coarse hair. Wavy hair. Low maintenance hair. Virgin hair. One processed hair that needs a little brightness. Shorter hair. Suitable for any natural hair colors from brunette, to red, to blonde.
DOWNFALL: Balayage is almost exclusively done with bleach, and a higher volume of peroxide. Bleach dries up quickly when exposed to air and heat, which renders it inactive. With balayage, a stronger bleach is needed to lighten the hair faster. This is perfect for hair that is healthy or stronger, but it's not always a good technique for those with overly porous hair, or weaker baby fine hair.
2. HIGHLIGHTS WITH FOIL
This is the original offspring of highlighting caps, and is a tried and true method for over 25 years. Foil highlights are used to create finely woven, natural highlights placed very close to the scalp. They can also be used to make thicker, heavier pieces, if chunkier look is desired.
Foils allow for greater versatility, as both bleach and tint can be used at the same time, giving a multi-dimensional result. They are more commonly used when a bigger color change is needed through only highlighting, alone. As a general rule of thumb, foil highlights can produce a balayage look, but balayage cannot produce a foil look.
GOOD CANDIDATES: Fine hair. Extremely straight hair. Hair that needs a higher concentration of color. Hair that needs to be tinted and highlighted at the same time. Hair that needs a more "even color". Overly processed hair that needs extra attention during the coloring process. Hair that can't tolerate stronger bleach. Suitable for all natural hair colors.
DOWNFALL: Takes longer than balayage. Leaves more of a regrowth if done heavily. Not as free spirited as balayage, and can be thought of as more antiquated technique.
3. OMBRE
Ombre is a French term meaning "shaded". When it first burst onto the hair scene, ombre was a drastic look, spotlighting very dark roots, with extremely bleached ends. (Think Drew Barrymore 2 years ago.) As with most hair styles, ombre has evolved to become more "wearer friendly". The more contemporary looks have a softer sophistication about them, allowing more of an ombre influence vs full blown ombre.
Ombre is a technique that can be done with foils or balayage. Hair is painted with bleach from the mid-shaft down, concentrating to make the densest area the bottom 1/3, or ends. After the hair is lightened sufficiently, a toner is applied to make the color appear less "raw". If a more blended look is desired, the hair can be toned darker at the demarcation line, and lighter towards the tips.
GOOD CANDIDATES: Anyone wanting a more current, trendy look. Medium to thick hair. Brunettes who want to have blonde, but still have overall dark hair. Those who want low color maintenance.
DOWNFALL: The look is meant to be uneven, and when worn in a ponytail can be stripey. If hair has been previously colored dark, it may be too difficult to lighten with bleach without compromising the integrity of the ends. In a conservative work place, the style may appear too messy or unkempt.
4. SLICES/PANELS
Slices or panels are when larger sections of hair are highlighted, which results in a much more dramatic, chunky look. It's usually used to create more playful, edgy, artificial looks. It's a great technique to add texture and depth in with heavily layered cuts or even A-line bobs. Paneling is always done in foil. It's not quite as popular in 2013, but like everything else, it will circle back soon enough!
GOOD CANDIDATES: Thick hair. Dense hair that needs more dimension. Haircuts that need a few bright/dark pieces for contrast. Anyone wanting a more bold, standout color. All over bleached hair that needs some pastel panels. Multi- colored hair.
DOWNFALL: Is a more artificial look. Difficult to recreate with consistency. The brighter colors fade very quickly. Not great on long hair. Less popular these days than other highlighting techniques.
5. TIPPING/FLYING COLORS
Tipping is a fabulous technique that adds just a swish of color to any hairstyle. It is literally what it sounds like- just the tips of the hair are lightened to give a little burst of color. It is very natural, grows out painlessly, and is a great introduction to anyone looking to just dip a toe in the world of color.
Tipping is usually done with balayage. The hair is styled the way it will be most frequently worn, and color is painted through the sides and top layer of the hair in tiny, whispy strokes, and processed about 20 minutes. The results make it look like you have just spent an afternoon surfing at the beach!
GOOD CANDIDATES: Men, who don't want a full head of color. Virgin hair. Short hair. No maintenance hair. Anyone nervous to try haircolor.
DOWNFALL: Doesn't produce major results. Not good on very dark hair. Not good for straight hair.
My final words of advice- have fun! Hair color can be as serious or as playful as you need it to be. There's something for everyone's personality and budget. These techniques are meant to be mixed and matched, to customize a look that belongs to only YOU! -Debi Dumas
Celebrity colorist Debi Dumas has built a name for herself as a leading color expert in the Los Angeles area. Having worked and traveled throughout the world, Dumas finds inspiration all around her. She has developed a multi-dimensional technique of "bi-lighting" or "tri-lighting", which came from her love of using multi-layered hues. She believes that in nature, everything is a mix of more than one tone, and her philosophy is to recreate that in the colors she puts on hair. Her skills have gotten her written up in numerous magazines, including being named the Top LA Colorist by Allure. In addition to her work in the salon, and as an expert educator, Debi has worked with such celebrities as Chelsea Handler, Russell Crowe, and Candace Cameron Bure, as well as for such publications as Shape, US Weekly, USA today, People, Playboy, and Rolling Stone. Debi is currently part of the color team at the prestigious Byron Williams Salon in Beverly Hills.  She resides in Malibu, and works bi-coastally.