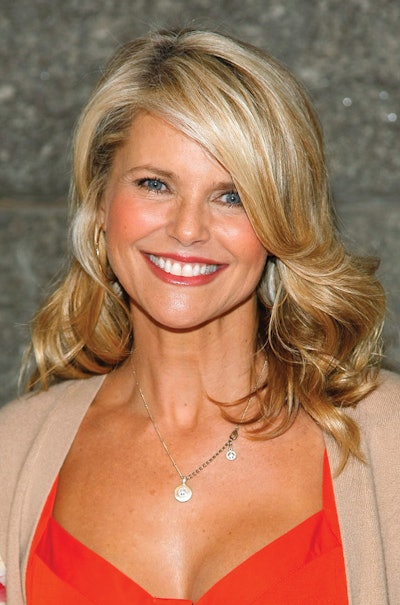 Celeb colorist and fashion runway stylist Ricardo Rojas dishes on his color makeover for the stunning Christie Brinkley.
The ultimate Uptown Girl, Christie Brinkley, recently regilded her golden locks courtesy of Ricardo Rojas, owner of the Ricardo Rojas Hair Studio in NYC. For the color reinvention, Rojas—who's renowned for his work on the Jean Paul Gaultier, Dolce & Gabbana and Versace runways—closed down his Manhattan digs for the day to keep celeb-seeking gawkers at bay. "She wanted a change in her haircolor, which was too white for the season," Rojas relates. "I added a warmer, sandy base and chunky highlights to play up her beautiful blue eyes."
Color alert: Rojas doesn't believe in toning the überpale set. Instead, he uses his own "valiage" technique, which involves using balayage to create the highlights, and then finishing the color design with his super-secret Ricardo Rojas Signature Treatment—a combo of several conditioning components that's applied in eight layers to "make highlights look incredibly expensive" without toning. (Psst: The Japanese-based Milbon Thermal Reconditioning treatment is the only component of this highly classified combo that Rojas will divulge.) —Victoria Wurdinger
Haircolor: Wella Natural
Level: 6
Existing Haircolor: Level 11, neutral
Hair Texture: Medium
Hair Condition: Slightly dry
FORMULA:
Base: Color Charm, 60 ml 7N (medium natural blonde) + 20- volume developer Highlights: Blondor Lightening Powder + 20-volume developer
PROCEDURE:
Step 1: Apply Base to the regrowth only. Step 2: Using Highlights formula, freestyle paint highlights throughout the hair, making them chunkier near the face. Lighten to palest blonde. Step 3: Shampoo, apply Ricardo Rojas Signature Treatment, and process with heat for 45 minutes.
View a pdf of this complete article as it appeared in the magazine.