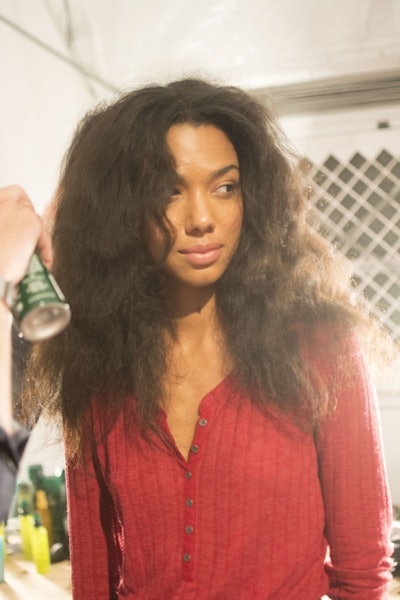 Renowned for its free-spirited interpretations of bohemian glamor, Indah did not disappoint at its highly anticipated introduction of the brand's show-stopping 2018 Swim Collection at Miami Swim Week.
"It's a magic carpet ride," designer Libby DeSantis said backstage. "We're taking you on a wonderful, whimsical journey through the decades, the '70s, the '80s and the '90s." Silky fringe, macramé, floaty caftans, goddess halter necklines, sexy lacing and swinging tassels were among the iconic style references that DeSantis reimagined to exhilarating perfection.
The inspiration for the perfect hair look for the collection: '90s-era Kate Moss, slightly tousled, a fresh, sophisticated take on sexy bedhead hair. Once again, Indah turned to René Furterer and the artistry of top hairstylist Adrien Flammier, who led the exclusive René Furterer team in interpreting Indah's vision of retro cool with a modern vibe. "Hair has just a hint of wave," said Adrien. "It's really more about texture, but not too big."
To begin, part brushed hair in the middle. Starting in back, take a section at a time and generously spray with René Furterer NATURIA Extra Gentle Detangling Spray from roots to ends, massaging product into hair.
Then take the same section and spray with René Furterer VOLUMEA Volumizing Conditioning Spray – No Rinse, making sure to get the hair really wet. Continue alternating the two formulas, working your way section by section up to the crown and then around to the sides and front.
Next, comb through hair with a wide-tooth comb. Starting with lower layers in back, take a section of hair. Emulsify a few pumps of René Furterer SUBLIME CURL Curl Nutri-Activating Cream in the palm of your hand and massage into hair from roots to ends.
Continue applying SUBLIME CURL Curl Nutri-Activating Cream a section at a time, working your way up to the crown and then around to the sides and front. Blow-dry hair with a diffuser, lightly scrunching hair with fingers to encourage the natural texture.
Next, starting in back, one section at a time, starting about 1 1⁄2 inches from the scalp, catch section between the plates of a flat iron. Close plates and turn flat iron under. Release iron then move a little further down the section to "crimp" hair, this time turning the flat iron over. Continue working the flat iron down the length of the hair, alternating the direction of the flat iron.
Once all hair is "crimped," starting at the crown, take sections and, one at time, spray each side with René Furterer Vegetal Texture Spray. Using a Mason Pearson flat brush, "back-comb" the underside of the section, and then "back-comb" the surface.
After "back-combing" give hair an allover spray with the Vegetal Texture Spray. Last, to give hair a slight lift at the crown, gently push hair upward with fingers.
[Images couretsy of René Furterer]