Justin Bieber, Harry Styles, Zayn, Jared Leto and many other celebrities are sporting man bangs on Instagram and Pinterest, so be prepared for guests to come asking for it. Andrew Carruthers, Education Director for Sam Villa, shares how to adjust the length, texture and shape of bangs, so they look lived-in, natural and masculine.
"Heavy solid bangs look more feminine, so it's important to create texture and movement when cutting fringe on a man," said Carruthers.
RELATED: Andrew Carruthers Solutions for Weight-balance Inconsistencies
Carruthers likes to use a Sam Villa Signature Series Reversible Blending Shear to remove length.  Due to its unique design, it enables a good amount of length to be cut off while leaving a soft textured edge.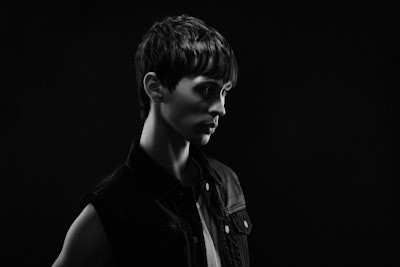 Tips
Use vertical sections elevated 90° and over direct each section back to a stationary guide towards the side that will be shorter for soft layers that follow the shape of the head.
Point cut with a blending shear and Sam Villa Signature Series Short Cutting Comb at a diagonal angle to create a choppy line that falls highly textured.
Design fringe to sweep to one side for a more natural, lived-in vibe.
The texturizing is done while cutting, so make sure to fine tune the perimeter by pinching pieces and cutting to maintain softness on the ends.
Finish with Redken for Men polish up pomade to add shine, texture and define ends.
[Images and video courtesy of Sam Villa]