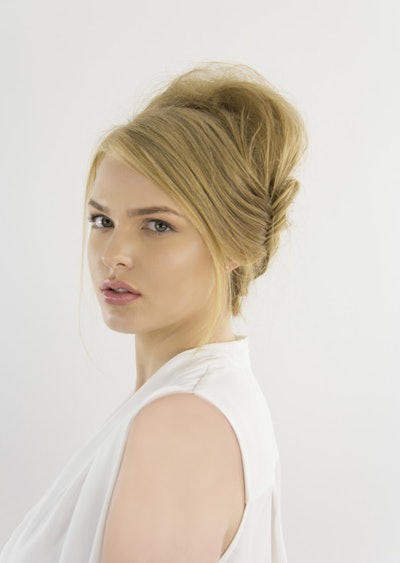 When Ruth Roche, Global Artistic Ambassador for Pureology Serious Colour Care, creates up dos, she goes for undone textured styles that are wearable, so she encompasses lacing to create volume and texture and braids to add interest and stabilize the shape so it lasts.  Watch as she creates a 60's inspired modern double fishtail up do that is beautiful and stable.
Modern Double Fishtail Up Do
Section at natural part with a triangle from front at recession area to crown. Put the rest of the hair into a ponytail high at the crown.
Lace the tail by back combing small sections at a time to create a cushion for the base.  If sections are too large the lacing will be uneven and the shape will be affected.
Make a claw shape with hand and place inside of laced hair, push hair forward to create shape with volume and secure with pins at fingers.  This fills in the space in front of the ponytail with volume and texture.
Divide ponytail into 2 sections.
Create a fishtail braid on the right half by taking little pieces from the right side and little pieces from the left to start to build a criss cross pattern into the braid, continue to the ends.  Keep it messy on purpose so it looks uncontrived.  When finished, hold the ends with a clip so they are free for the final pinning.
Take the remaining section of the ponytail and divide into 2.  With body standing towards the front, start fishtail braiding while feeding in pieces from the original triangle section that was not laced. Cross pieces from the from the front over to the other side like a French Fishtail, the draping from the triangle section stays secure because it's woven into the braid.
Pull first braid apart to build more volume, lift shape up and create a nice design on the base and pin in. Repeat with other braid.  This design has interesting texture with the windswept little hairs sticking out from the lacing – it doesn't necessarily look like 2 braids.
Finish with Pureology Strengthening Control Zero Dulling Hair Spray by looking at the shape from all angles (use a mirror!) and spraying for nice hold that is still and flexible.  Let the natural pieces at the face fall out for a very soft feminine look.
"This is a great up do for those who shy away from up do's because they're afraid they'll fall out.  This style is soft and feminine, yet very secure due to the braids," added Roche.
Check out www.ruthroche.com for more undone textured styles with a modern edge!
[Image and video courtesy of Pureology]