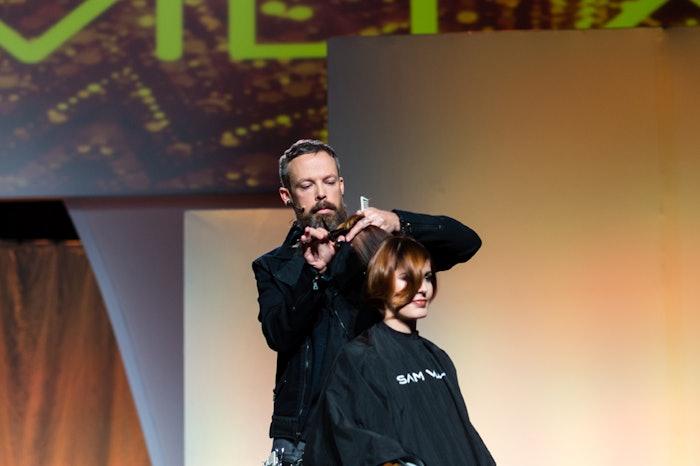 Sam Villa has a great Youtube series, Problems and Solutions, where educators address consistent problems hairdressers have behind the chair and offer solutions for creating haircuts that are balanced and consistent.  Andrew Carruthers, Education Director, demonstrates a solution for inconsistencies in the weight balance of a haircut – it all comes down to elevation and body position in this video.
"Inconsistency in layering hair tends to be created due to the elevation within your sections and your body position," says Carruthers.
Elevation: Variation in elevation is the most common challenge when layering hair. Elevation controls the shape of the layer, so if sections are too large or the hair is not consistently elevated at the same degree from the scalp, it will affect the weight in the layers.  To truly layer hair, elevation must be kept at 90° or higher, lower elevation will result on graduation.  Taking too large a section can also cause discrepancies, because the section has to be condensed into the fingers, which changes the elevation.  Try splitting the section into two pieces.
Body Position: Body position, specifically where the elbow is, affects the consistency in layers.  When cutting hair on one side of a guest, the elbow tends to be up and when the body changes to the other side, the elbow tends to be down.  This causes the hair on the side that's cut with the elbow down to be heavier than the side cut with the elbow up.
[Image and video courtesy of Sam Villa]