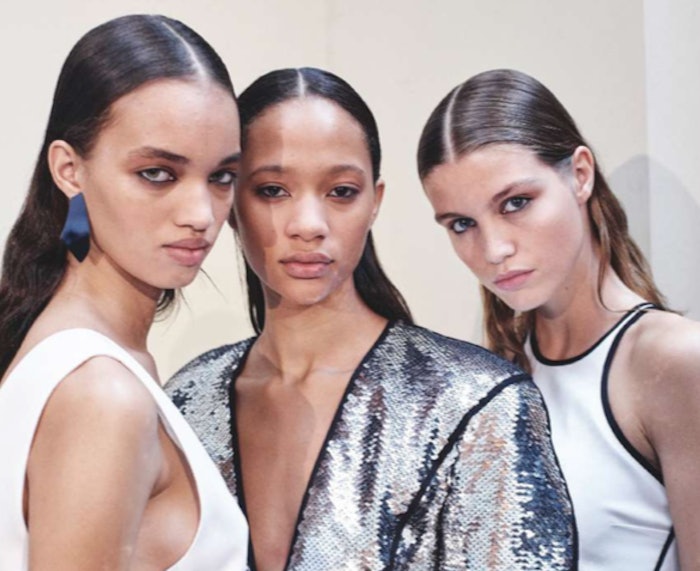 Take out your spray bottles and warm up your gels: The season of drenched tresses is upon us. —KLF
One of these years, your clients will definitely embrace the wet-hair trend (it hasn't quite caught on yet, if past seasons are any indicator.) That seems to be the hope at least, as runway stylists continue to turn out dewy designs on the catwalk. Yes, H2O-laden tendrils are once again making a splash backstage, slipping and sliding down one of three tracks: heavily sculpted, loose and languid, or a mixture of both. Here are the looks that poured it on thick when it comes to chic style.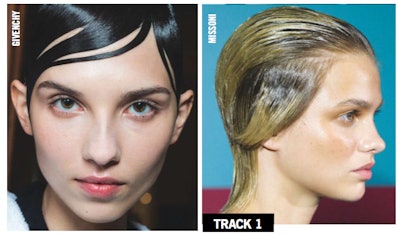 TRACK 1: Soused & Sculpted - (Seen at Givenchy and Missoni)
Heaps upon heaps of gel serve to highlight the arcs and swoops of glistening designs seen at Givenchy and Missoni. Redken global creative director Guido Palau describes his Givenchy design as a "futuristic" helmet that can only be achieved through a liberal application of Redken Hardwear 16 Super-Strong Sculpting Gel (@redken5thave) at every swerve and turn of the style.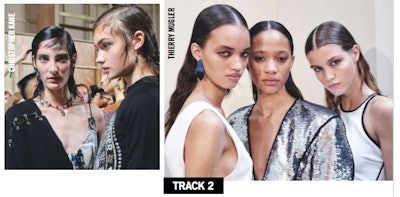 TRACK 2: Wet & Wild - (Seen at Christopher Kane and Thierry Mugler)
Dual texture cements its place in the beauty canon as a style that hair junkies can't get enough of. Soaked at the crown with dry lengths that tumble freely, the trend relies on mastering a tight silhouette up top. At Christopher Kane, Palau razors in some face-framing pieces on each girl, and swaps out gel for Redken Shine Flash 02 Glistening Mist as his soaking device, which, he says, "gives a really grungy, shiny, flat appearance to the top of the hair."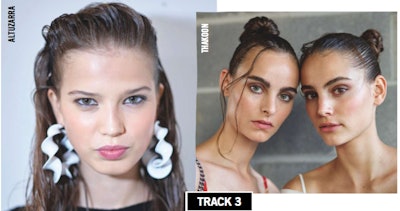 TRACK 3: Messed & Moist - (Seen at Altuzarra and Thakoon)
Doused hair that seems as though the wearer showered and ran out the door: That's perhaps the easiest way for your clients to adopt this trend, and it's a look that takes plenty of product to pull off successfully. At Thakoon, Kérastase Paris hair lead Odile Gilbert gathers hair that's been drenched in Kérastase Paris Forme Fatale (@kerastase_official) into a high bun, pulling a few sopped strands loose for an easy-to-mimic look that appears as if the women did it themselves.