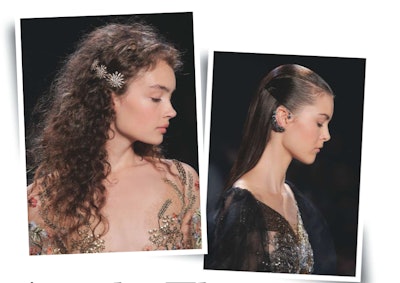 All hair textures are embraced and enhanced to full romantic effect on the Marchesa runway. —ALYSON OSTERMAN-KERR
A touch of romance was in the hair at the Marchesa Spring/Summer 2017 presentation. To complement the designer's heavenly feminine wares, Moroccanoil (@moroccanoil) global ambassador Antonio Corral Calero worked to lend an ethereal effect on the models' manes while accentuating their natural hair texture—from beautiful, lush curls to sophisticated, straight silhouettes. Here's how to get the look on both hair types:
Naturally Curly
Apply a dime-size amount of Moroccanoil Treatment on dry hair from mid-lengths to ends for manageability and shine.
Revive curls with Curl Re-Energizing Spray for an instant boost of moisture and to add definition and smoothness.
Gently separate curls and add a jeweled brooch to each side of the head, just behind the ear and in line with the cheekbones.
Mist with Luminous Hairspray Medium to tame flyaways and ensure shine and hold.
Sleek and Straight
To create a smooth foundation, prep hair from roots to tips with Moroccanoil Treatment.
Beginning at the nape of the neck, apply Heat Styling Protection from roots to tips and flat iron strands with the Titanium Ceramic Hairstyling Iron. Continue this process from the nape to the crown until all hair has been straightened. Hair should be saturated with product so that it appears lacquer-like—not wet.
Section off the hair at the top of the head by drawing a horseshoe-shaped part from the top of the left eyebrow arch, back to the crown, and around and up to the right eyebrow arch. Clip this section to the top of head and out of the way.
Using a fine-tooth comb, comb hair at the right side toward the back of the head. Mist with Luminous Hairspray Medium for sheen and grip, and blow-dry in this direction with the Tourmaline Ceramic Hair Dryer using the pinched nozzle attachment. Tightly secure this section at the back of the head with a small, clear elastic. Repeat this process with the section of hair at the left side of the head.
Taking the section at the top of the head, mist with Luminous Hairspray Medium and comb backwards over the crown of the head and down the back, covering the two small ponytails.
Finally, accessorize the style.
Mist with Luminous Hairspray Medium to tame flyaways and ensure shine and hold.