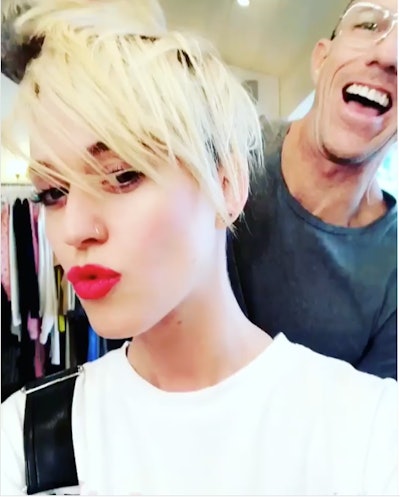 Step 1: Start by creating a u-part at the parietal, taking your comb from above one temple and around in a horseshoe shape to the other temple. Section this hair up from top to bottom and secure with a hairclip.
Step 2: Let's get undercutting! Use the #2 attachment on your clipper to remove the bulk from the bottom half. The Andis Envy Li is a great option because it's cordless and lightweight, so it's very easy to use.
Step 3: After removing the bulk, use the #1 attachment and blend from the nape to above either ear. Use a c-stroke scoop cutting motion to blend from the shorter hair into the longer length. Things are looking sharp!
Step 4: It's time for that signature asymmetrical side-sweep. Loosen the clipped hair on top and dampen it. Create a 1-inch section from the front hairline to the crown and cut to the desired length. While cutting, angle your fingers upwards toward the front to preserve the length.
Step 5: Comb the hair out horizontally on the right side, angling your fingers outwards toward the front. The hair should be parallel to the floor. Cut to meet your guide from the center top section. Repeat on the left side. You're on your way to red carpet-worthy style! 
Step 6: Comb the hair on the top back towards the crown and pull out horizontally, parallel to the floor. Point cut the ends of hair to remove the bulk while keeping the back from looking heavy. This can be done with a clipper to avoid cutting your fingers.
Step 7: Styling is simple for this look. Apply a light weight styling product and blow dry with a large round brush to add body and volume. Skip the long morning routine and look wide awake within minutes! You'll look fine, fresh, fierce and ready to take on the world—just like Katy Perry!
[Image: Instagram]