For its 10th-anniversary show, The Blonds task the Sexy Hair team with summoning an army of volume-laden hair goddesses.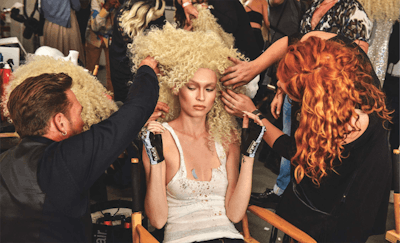 In a large conference room in Manhattan, New York's bustling Times Square, a hive of Sexy Hair (@sexyhair) stylists buzz about. A few are ratting balls of frizzy platinum hair—or "fuzzy bunnies" as they are later referred to by Sexy Hair artistic director Rafe Hardy. Others are diffusing fuzzy bunnies, while still others are carefully separating coils on freshly unpacked wigs. In one corner several mannequin heads prop up blonde wigs that erupt with curlicues, each wig just a tad different from the next. The scene unfolds on the eve of The Blonds' 10th-anniversary runway show, and the Sexy Hair crew is committed to delivering exactly what the designer duo desires. "It's Phillipe and David Blond's 10th anniversary, and it's very special to them; it's a big deal," says Brian Jensen, one of the anointed Sexy Hair leads. (It should be noted: Sexy Hair held a competition for its stylist network, with 11 being picked to join the backstage team at New York Fashion Week. Three of the eleven—wigmasters Arlene Martin from Atlanta and Meaghan Masterson from New York, as well as Jensen of Reno, Nevada, were named leads thanks to their superior wig skills.) Jensen continues, "So, they really want to make sure that the hair is a big part of that story, which isn't that common during Fashion Week. Typically, the hair takes a back seat to the fashion."
This is true: The prevailing theory is that runway hair should be a complement, not a distraction, in order to allow the clothing to shine. But for The Blonds, hair is an accessory, a crowning jewel to its bauble- encrusted catsuits and corsets. This likely comes from David Blond's background as a wig stylist—and from Phillipe Blond's penchant for donning immaculately coiffed wigs. "We definitely picked David's brain," Jensen says. "I wanted to be  receptive to him because I know he's very knowledgeable. I was like, 'Show me what your tips and tricks are,' because we all have eight different ways to get to the same destination and I wanted to see what worked for him over the years."
The Blonds, big believers in syphoning numerous inspirations into one bold beauty stew, tasked Sexy Hair with this directive: Clash of the Titans goddess meets "She-Ra" mixed with '80s heavy metal hair bands. "It's a really interesting combination of different flavors," Jensen laughs. For the initial test, done the night before, he says that the design duo came in with "a lot of juicy words. 'We want volume; we want to see width, but we don't want to see roundness.'" Ever the visual masters, Phillipe and David brought a demo wig that they had spent three days manipulating to relay their vision. "They spent two days figuring out the back part, and then they hung it upside-down overnight to keep its fullness," Jensen reports. "It was great to have that visual because it gave us a direction and a path, but it also inspired us to take it to the next level."
And take it to the next level they did: Hardy points to the "fuzzy bunnies" that are being pinned and placed indiscreetly—an ingenious way to add visual density without stripping the synthetic hair of its kink. "We tried only backcombing the wig, but when the objective is to have that defined curl with a little bit of texture and a whole lot of volume, it only takes two strokes too much; there's no going back! Once synthetic hair achieves its state, it's there," he says, adding, "Never underestimate the ingenuity of American hairdressers; we can make it happen when given the right tools!"
Hardy shares that the Blonds will be visiting soon to inspect the five demo wigs Sexy Hair has prepared. "We don't want anything lost in translation. The best way to have an artist see is to have them see," he says. From there, when the designers pick their perfect wig, the game is on: All 18 wigs for the show will be thinned, shaped and styled for a uniform look that will stomp down the runway tomorrow—sleep for the stylists is likely not an option.
The next day at Milk Studios, the backstage aura is chill—not the typical mayhem that infiltrates a Blonds backstage. A wall of wig stands boasts a sea of curls, and Hardy stands nearby, calm as can be. "We came up with a plan," he says, noting that Phillipe chose the biggest wig from the five the night prior, and asked that the volume be pumped up tenfold.
To execute this directive on all 18 wigs, "we decided to have 10 team members pre-fluff to the point we needed, and then have one team member do the finishing for all so there's consistency. We chose a benchmark, and that was it," Hardy shares.
Backstage, the team only needs to do fine adjustments once the wig is in place on the model, and as models face the backstage photographers, it's palpable that they're having fun with each towhead tendril that frames their faces. "I'm calling it 'White Snake meets Jem,'" Hardy says of the style. He estimates that for each wig, the team invested an hour and a half to perfect it—a chore, to be sure. But it was all worth it; as he pulls on a curl to show that once it fuzzes, it's nearly impossible to return it to its previous curl pattern, he says, "This was very fun. It's the first time we've worked with synthetic wigs in our six years of Fashion Week. And, just look— they're fantastic." 
[IMAGES: CINDY ORD/GETTY IMAGES]