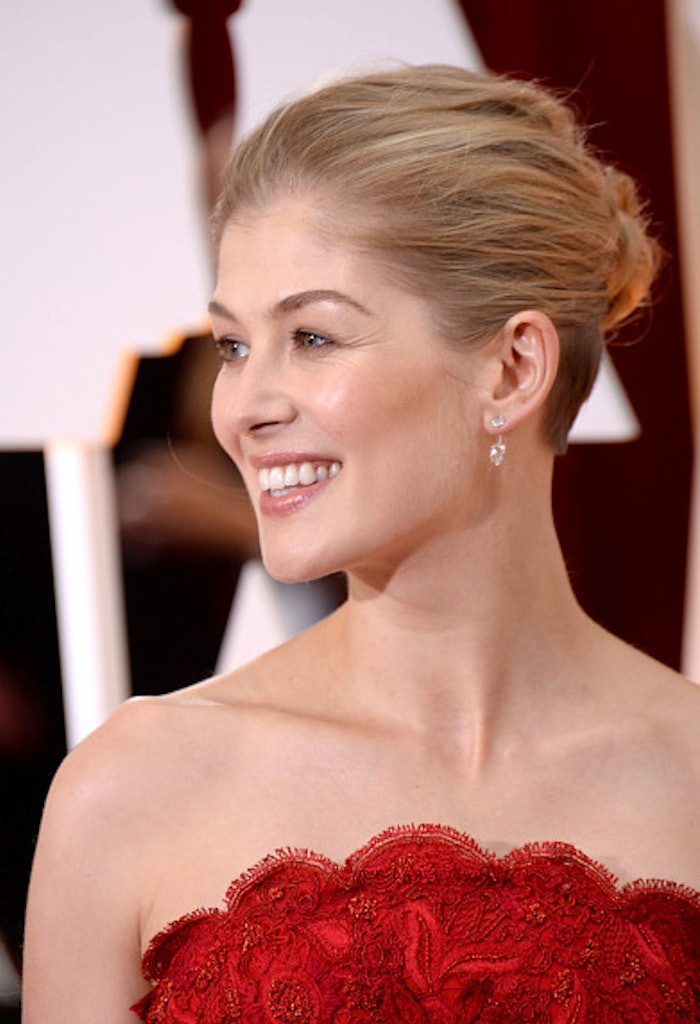 Rosamund Pike's look was a showstopper at last night's 87th Annual Academy Awards. Celebrity hairstylist Oscar Blandi used products from Kylee Rae Heath to create a chic, effortless chignon with an edgy, undercut look for the Gone Girl star. Said Blandi, "It was key to have it look easy and untried. We wanted to create tons of texture."
Get the Look (Hair):
Said Blandi, "Starting on damp hair, I sprayed Oscar Blandi Protein Mist throughout the hair.
"I then applied Oscar Blandi Hair Lift Mousse and combed the product through.
"Next, I blew her hair out creating volume and movement. Before using The Bombshell 3/4-Inch Rod Curling Iron from Sultra and a 1-inch sized marcel iron to create texture, I sprayed Oscar Blandi Dry Styling Heat Protect Spray.
"Once the texture was in place, I used a comb to section from behind the left ear, over the head to the top of the right ear.
"I pulled the back section into a ponytail. Then, looking in a mirror together, I pulled the front section back to meet the ponytail securing with bobby pins.
"I sprayed the look into place and twisted the ponytail into a bun and pinned it. Then, I finished the look with the Pronto Lacca Medium Hold Hairspray and applied the Polish Glossing Creme to the short hair of her undercut."
Meanwhile, celebrity makeup artist Melanie Inglessis for MAKE UP FOR EVER created a Grace Kelly-inspired makeup look for Pike. Said Inglessis, "As soon as I saw Rosamund's custom Givenchy dress, I knew she was going to have a moment on the red carpet. I wanted to create a classic beauty look like the iconic Grace Kelly."
Get the Look (Makeup):
Said Inglessis, "To prep Rosamund's fair skin I applied SISLEY Sisleya Essential Skincare Lotion all over the face, followed by the refreshing SISLEY Floral Spray Mist. While the skin was still damp, I applied SISLEY Hydra-Global Intense Anti-Aging Hydration to keep Rosamund's skin nourished all night long. To reduce under-eye puffiness, I applied a thick layer of SISLEY Eye Contour Mask and left it on for 10 minutes. I finished with SISLEY Nutritive Lip Balm and left on until I was ready to apply lipstick.
"I wanted Rosamund's skin to have a flawless matte finish and MAKE UP FOR EVER Step 1 Skin Equalizer Mattifying Primer, which comes out in March, locks in moisture while giving a beautiful matte canvas for makeup. It's the perfect primer and creates the perfect base. Using a Beauty Blender I worked CHANEL Vitalumiere Aqua onto the skin, followed by SISLEY Phyto-Cernes Eclat Concealer for under the eyes. To recreate depth in the face I blended CHANEL Soleil Tan de Chanel Bronzing Makeup Base with MAKE UP FOR EVER Artisan Medium Powder Brush #126 and worked the product below the cheek bone, then gently swiped it across the top of the forehead and bridge of the nose for a sun-kissed glow. Next, I dusted MAKE UP FOR EVER HD Pressed Powder all over, which is a great talc-free and translucent powder to keep the look fresh.
"To define and sharpen the brows, I used MAKE UP FOR EVER Brow Seal Transparent Eyebrow Gel.
"To enhance Rosamund's beautiful eye shape I wanted to use earthy tones and dusted MAKE UP FOR EVER Matte Artist Shadow in #M-530 Eggshell all over the lid. I then used MAKE UP FOR EVER Artist Liner in #M-50, Matte Bright Brown along the lash line and smudged it with CHANEL Illusion D'ombre Long Wear Luminous Eyeshadow in Mirage to create a softer look. I then added MAKE UP FOR EVER Artist Shadow in #M-536, Milk Tea, to the crease to open the eye and used MAKE UP FOR EVER Artisan Large Blender Brush #242 in a back and forth motion to blend the shade and also added it along the lower lash line. I used CHANEL Inimitable Mascara in Brun on the bottom lashes and then applied MAKE UP FOR EVER Smoky Lash Mascara Rich Black to the top lashes to create more volume and lengthen the lashes.
"For the perfect nude pout, I defined the lips with CHANEL Precision Lip Definer in Beige Innocent and then filled in with CHANEL Rouge Coco Ultra Hydrating Lip Colour in Mademoiselle."