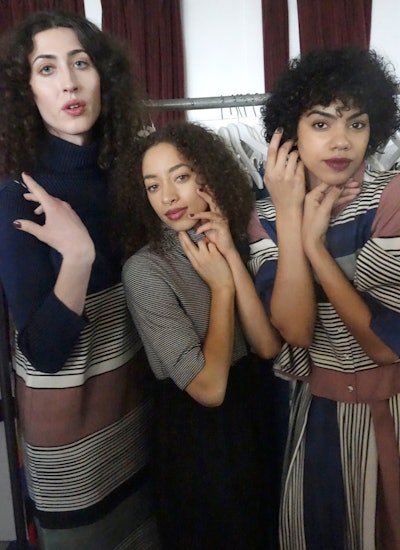 It's becoming a familiar theme this season—and one that is particularly fitting considering America's current political climate: Women are strong individuals. At Mara Hoffman, that idea plays out with a cast of models from all walks of life as well as a show opening that left many misty eyed: the four organizers of the Women's March on Washington— Bob Bland, Tamika Mallory, Carmen Perez and Linda Sarsour—proclaiming women's worth in a society where many seek to oppress it.
How does this translate for beauty? Rumpled, relaxed waves and turned-up texture reflect the diversity of the model casting. Davines hair lead Joseph DiMaggio explains, "We wanted a natural look with a loose vibe. And both myself and Mara don't want any irons used in the hair; it's more about hand-styling." To achieve this feat, for models without curly textured hair, DiMaggio sprays small sections with Davines Your Hair Assistant Blowdry Primer and loops a figure-8 soft set around his fingers, clipping the figure-8 into place. "What's cool is that the heat from your fingers helps set the wave," he says. After pinning the entire head, he sprays on Davines This is A Medium Hair Spray and then diffuses the set with a blow dryer for two minutes. After the set is released, DiMaggio brushes through the waves, loosening them up with both a paddle brush and his hands until they fall into a relaxed mass. "You can't get this type of look with an iron," DiMaggio says. Models with curls find their tendrils accentuated and defined, all tailored to their individual beauty, naturally.
Nails also appeal to the individual, with 12 Zoya nail polish hues, ranging from deep purple Pinta to plum-brown Debbie. "We're calling the look 'Kaleidoscope Women,'" says Zoya nail lead Naomi Gonzalez. "Everything is based on the individual. We presented Mara with over 125 colors and she narrowed it down to these 12." 
For Milk Makeup lead Deanna Melluso, the idea of "a girl who's independent, strong and humanist" translates to two looks where the skin's beauty is allowed to shine through thanks to a mix of Milk Makeup Sunshine Oil, Sunshine Skin Tint, Blur Stick and Face Gloss. To complement the glowing skin, Melluso taps into the laidback aesthetic of the '90s, dabbing lips with fingers pressed in either Milk Makeup Lip Color in Wavy or a blend of Lip Color in Dip Out and Grrrl. "We wanted to bring back a bit of the '90's girl with bronzed dewy skin and a brown or berry lip," she says. —Karie L. Frost