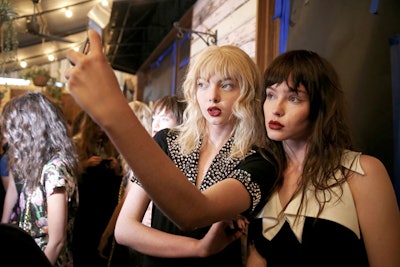 1930s pre-code Hollywood cinema's uninhibited ingenues with the edge of Fairfax Avenue street style came to life for the Work Morais Collection 4 runway show presented at Harlowe in West Hollywood on November 13th. Paul Mitchell's Lucie Doughty created the rocker-chic hairstyles for the Los Angeles centric collection. While these hairstyles captured effortless textured Mick Jagger shag and swag, they were in-fact more complicated than met the the audience's eye. The hairstyles incorporated faux-bangs so undetectable that even one model's mom didn't recognize her daughter strutting down the runway. For those clients who want to try out a new look, but aren't ready for the full commitment of bangs, clip-on fringe is the look to try.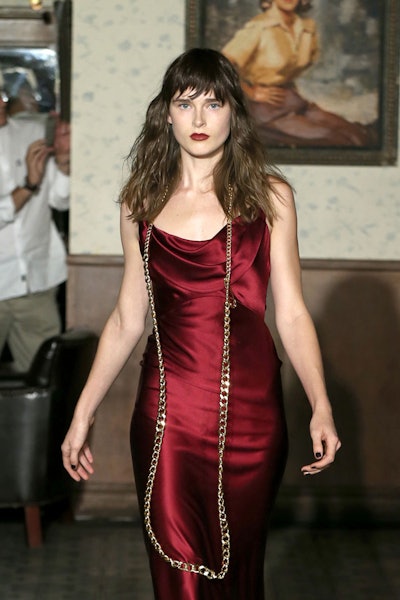 Here's how to create the style:
1. Measure the fringe on the model. Place the fringe on and section a triangular shaped section from each parietal ridge at the hairline to the back clip. 
2. Direct the hair backwards and secure with an elastic band at the point of the section. Use sculpting foam to keep it flat. Keep as flat as possible by not lifting your hand away from head as you apply band.
3. Underneath the ponytail divide the hair in half. 
4.Take a piece of hair from each side and a piece from the underneath of the ponytail. (about 1 inch below band)
5. Band together.
6. Let top of pony cover over and blend.
7. Lightly spray hair with water spray and add Paul Mitchell Sculpting Foam and Awaphui Wild Ginger Texturizing Sea Spray.
8. Diffuse the product into the hair to build texture. Add more product as needed.
9. After the product is completely dried, add curls visually into the hair where needed. Let cool.
10. Break up the curls with a blow dryer sans diffuser, and your hands
Attach fringe piece starting in the front. Open the clips and hook in either side of your parting to fully secure.
11. Clip the back clip onto the hair. Check you have no bumps.
12. Curl the fringe piece visually to mimic the texture created on the model's hair previously.
13. Add Awaphui Wild Ginger Texturizing Sea Spray and break up the curls on the fringe piece with a blow dryer on low.
14. Finish hair with Extra Body Finishing Spray. Note: Fringe pieces may need to be blended in with a carving comb. 
[Images courtesy of Paul Mitchell/Getty]