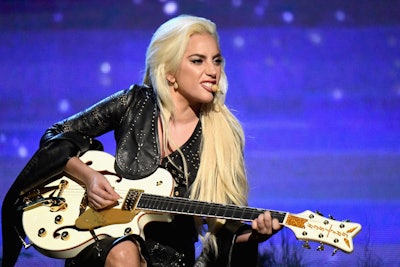 For her performance at this year's American Music Awards, Lady Gaga rocked an all black, studded leather look, topped off with long, luxurious locks. Celebrity stylist Frederic Aspiras, who created the simple-yet-chic style for the "Million Reasons" singer, details how the look was created in the how-to below!
Get the Look:
Cleanse and condition with Matrix Biolage R.A.W. Nourish Shampoo and Conditioner for soft, healthy looking hair from the start.
Towel-dry and section into five parts: one on top, two on the side, and two in the back. Apply Matrix Style Link Blowout Skinny Queen to each section before using a medium size brush to blow-dry.
Once dry, curl each section backwards and set with a clip. Allow to sit and cool about 10 minutes. Spread Matrix Style Link Mineral Grip Definer in hands and run through hair to separate the curls.
Use a curling iron to enhance pieces throughout, focusing on the face frame and crown of the head to create volume.
Spray a small amount of Matrix Biolage R.A.W. Replenish Oil Mist to a boar bristle paddle brush and brush hair back and away from face to smooth out curls.
Finish with a light mist of Matrix Style Link Volume Fixer Hairspray to hold style but remain soft and full.