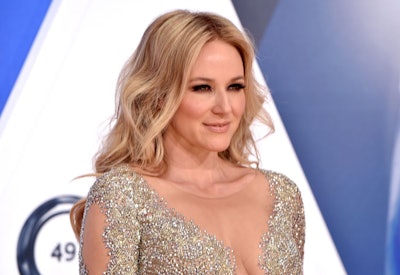 Got clients on the opposite end of the color spectrum? Whether she wants to go classically blonde or rocker blue this season, help your guest celebrate the holidays in style with these two stunning hair colors from hairstylist Brian J. O'Connor.
For last year's CMA Awards, Brian took singer Jewel's locks to a warm, sandy blonde (above). The slightly darker tone made the look the perfect hue for winter blondes.
Get the Look: Dark Blonde
"On Jewel, I used a level 8.0 natural shade with a 10 volume developer on her base, foiled in babylights around her face and crown area using ammonia free lightener and 10 volume, then glazed them with 11.2 beige color with double 10 volume developer," says Brian. "This works perfect on anyone with a natural level 6 and lighter, as you are able to get a gentler, even lift in the hair while still maintaining the natural underlying pigment from the level 6 hair color and lighter. Fair to warmer skin tones look great in this, as the sandy beige give a nice even balance of cool and warm tones to level everything out."
For the client who loves to stand out, celebrate the cooler months with a bright, bold blue, like the one Brian created for Paramore front woman, Hayley Williams.
Get the Look: Electric Blue
"A beautifully obnoxious POP of bold, turquoise color," says Brian of Hayley's hue, "good for all hair colors and textures. Just know, it's all about getting the right lift and [lightening]… Great for anyone who's willing to be bold and stand out in the crowd, this color is not for the average joe. Especially looks great on fair skin as you really get the transition in color to POP!"