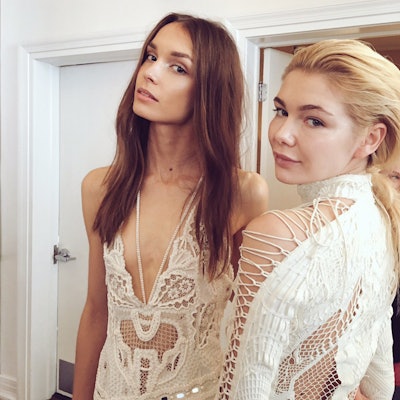 A runway show is a sum of its parts; it's not just about the clothes, but the casting, music, nails, makeup, and of course, the hair. While some designers don't take their hair look into consideration, Jonathan Simkhai keeps hair top of mind, show after show. Simkhai sat down with TIGI Creative Director Thomas Osborn and TIGI US Session Director and Educator, Adriana Papaleo, to discuss their creative process and collaborative team dynamic — going on five seasons.
Hair has always been very important to Simkhai. He confessed that although he might not have been a star student or athlete in high school, he was good at doing his friends' hair. This feeling of being successful and giving women confidence was the motivation he needed to pursue a career in fashion. It's something we can all relate to — the CFDA Vogue Fashion Fund winner is still inspired by the spark that happens when a girl sees herself in the mirror for the first time. "You see that feeling and that's what I want to create," Simkhai explains.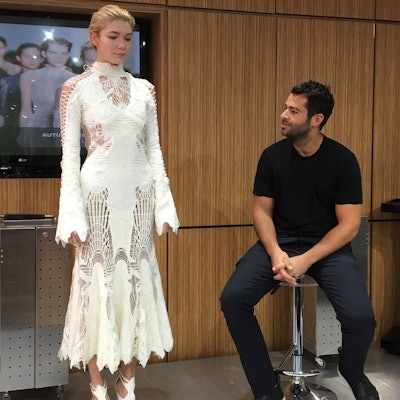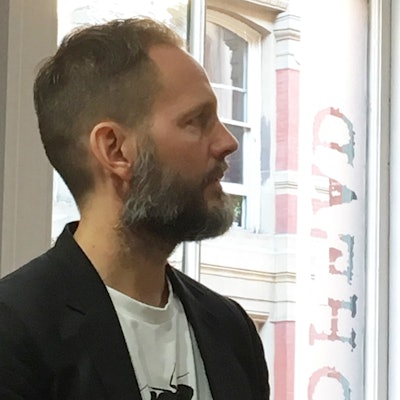 The first step to getting hair runway-ready is a kick-off call, where the designer and stylist discuss the vision behind the collection. Following this, the TIGI team does a hair test which can take anywhere from 20 minutes to 5 hours to lock in the look. "Sometimes the call has nothing to do with what walks down the runway," Simkhai confesses, noting the importance of a strong working relationship.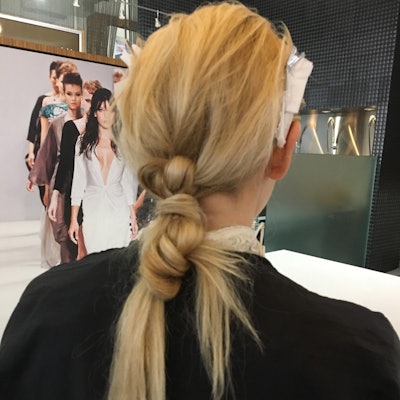 For his Frozen Goddess AW16 Collection, Simkhai was inspired by architecture, specifically bridges and scaffolding, which can appear delicate from afar but are actually very powerful. As he notes, they "hold the weight of the world." Osborn adds that undone hair, which he considers his signature, takes a great deal of effort to create. For such an elaborate look, the team relies on a strong base. It's all about the TIGI Bodifying Spray, which gives the "grit and texture" necessary to build on. "You need that grit," says Adriana. The Simkhai frozen goddess is purposeful; she is not lost. The look has a lot of confidence to it, which translates to a degree of "nonchalance" in the hair. "More than half the time, designers want the hair to look as though the model has done it themselves," she adds, "otherwise it can look overdone." Hair is brushed back while front pieces are ironed to convey "frozenness," with two knots in the back at the top and bottom. A knot is purposely omitted from the center to avoid a separation. "There's a simple elegance to it, but it's all about deconstruction — it's the middle ground between bridal and just walking through the door," says Adriana.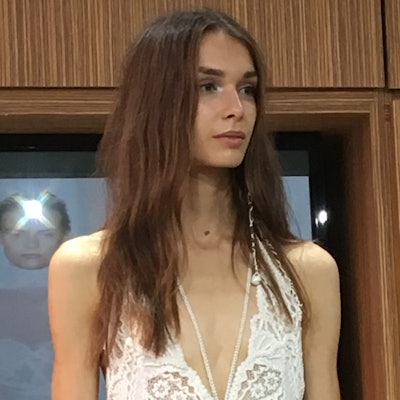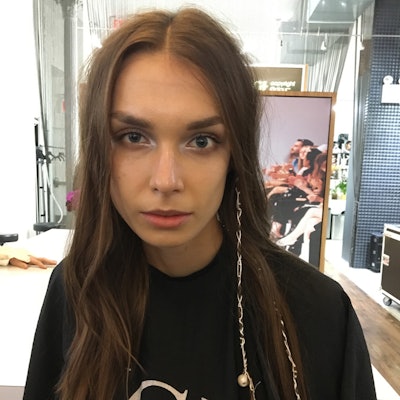 For the summer collection, Simkhai takes his muse from the arctic to the desert. This look relies on braiding, but a much more subtle variety than in the previous collection. To achieve the "desert drifter" inspiration, the team uses TIGI Sea Salt Spray for a dry feel. Hair is blown dry with a soft center part; a classic Marcel set follows. The team leaves the ends out, only wrapping one and a half times. Hair is positioned to have a little bit of lift and then collapse on top. Twine and pearls, to match Simkhai's designs, wrap around the braids. "I think braids are truly incredible things because of the strength that they have; people have built temples out of braids of hair — it's an incredible fabric," comments Adriana. Although they look delicate, these braids have that same strength — there is no whimsy in this look.
Being backstage at New York Fashion Week, making designs come to life in the moment, is a totally different experience from styling in the chair. This is mainly because of the incredible time constraints. The team agrees that the three hours behind the scenes are a "blur," to put it mildly. There can be as many as ten stylists on one girl as models routinely trickle in late, especially with the heavy traffic. "There's always a handful that will come in five minutes before the show, but there's no option — failure is not an option," Osborne says, adding, "But in five minutes, it gets done, like that." After all, "As hairdressers, we're fashion interpreters," he continues, ever eager to make the designer's total vision come to life. Needless to say, we're sure the team has already started planning for February and we can't wait to see what look the Simkhai muse will take on next!