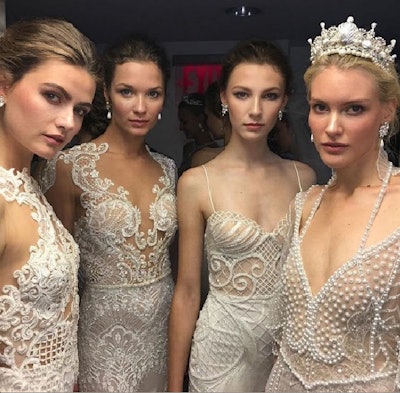 At New York Bridal Fashion Week F/W 2017 lead hairstylist, T. Cooper of Metro Look, and her team were sponsored by ECRU New York to create roughed-up, glamourous hair for the Alon Livne White show for Bridal Fashion Week at Bohemian National Hall. Alon Livne White is a luxury gown collection designed by Project Runway Israel winner, Alon Livne. After his win, Livne went on to be part of Mercedes-Benz Fashion Week in New York City where he presented his Fall/Winter 2013 collection at Lincoln Center. WWD described the collection as: "a darkly beautiful and wonderfully constructed collection of evening looks… well-tailored and chic." Celebrities and fashion figures such as Naomi Campbell, Beyonce, Lea Michele, and Nina Garcia began to wear Livne's luxurious gowns immediately after his show.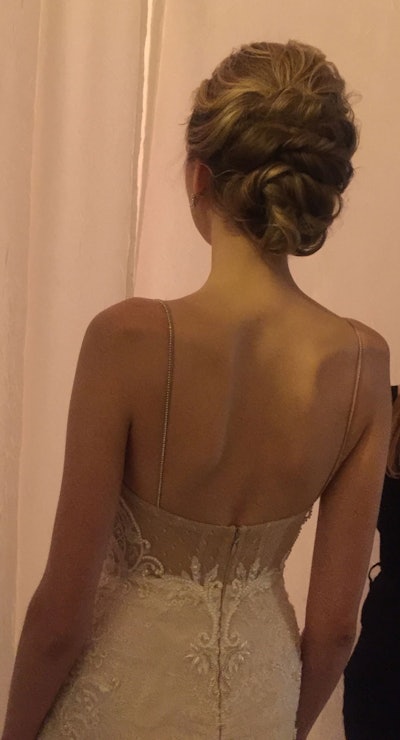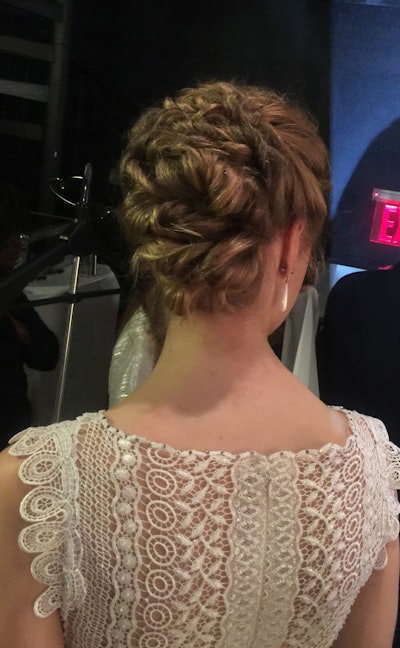 The show's updo was named a "Beautiful Mess," and it was shaped using ECRU New York products: Volumizing Silk Mist, Sunlight Styling Spray, and Silk Texturizing Balm.
"Alon told me that he wanted an elegant style thrown up off of the shoulders, and that it needed to be messy, but perfect. That was a tall order!" said Cooper.
Get the Look:
The disheveled updo was created by saturating the hair with Volumizing Silk mist, and then blow-drying the hair upside down to create root lift.
The models were sprayed with Sunlight Styling Spray and curled with a 1-inch iron.
The stylists then ran their fingers through the curls, and applied Silk Texturizing Balm to create lived-in waves.
Next, a horseshoe-shaped section was made at the crown of the models heads, twisted, and then pinned.
Four 2-inch sections (two from each side of the head) were twisted and pinned under the crown section, alternating sides.
The loose hair at the bottom was twisted into a rope braid and pinned into a low messy bun under the twists.
The style was completed by pulling out little bits of baby hair around the hairline for an unfinished look.