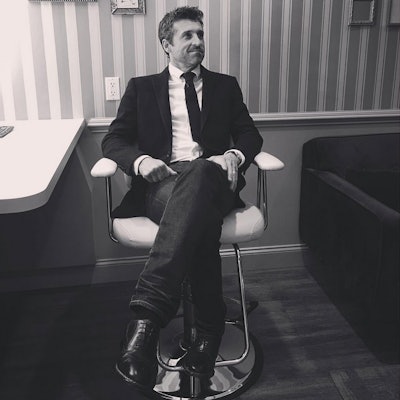 For his role as Jack in the Bridget Jones reboot, Bridget Jones' Baby, Patrick Dempsey went for the classic vibe with a timeless hair look. The look, which relies on a classic shape - shorter sides with subtle height on top - is perfect for the minimal yet fashionable client who wants ease, wearability and style. Below, American Crew Global Technical Director, Theri DeJoode, offers her tips to getting this look in the salon.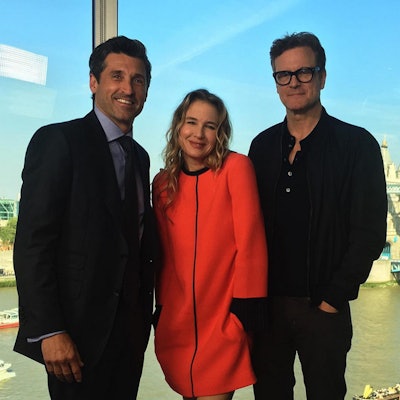 Get the Look: Cut
Create a standard horseshoe-shaped parting at the recession area to separate the top half of the head from the bottom.
Cut a classic square layer approximately 1 1/2 inches long. Let the bottom length fall over the top of the ear. Follow all the way around the head with basic vertical sections.
Transition with a low vertical facet. Grab a vertical section - palm toward the head, behind the ear - from center part on top to the horseshoe parting.
Connect to the previously cut length at your fingertips. Cut over hand with the base of the hand falling slightly toward the head and away from a pure parallel to the wall position. Carry that cutting technique forward to the front hairline.
Return to the initial section and carry the sectioning pattern around the crown and to the other side of the head.
Connect low with a square cutting angle at the top of the head. Connect past the center zone into the area where the head rounds down.
Offer a low classic taper with clipper over comb anchored just under the hairline and suspended at the top of the comb. Keep the sideburn fuller and at a longer yet classic length.
Alternatively, offer some slide cutting with a razor at the top of the head to support the hair to an elevated state. Cut lightly against the natural growth.
 
Get the Look: Style
Apply American Crew Liquid Wax to the hair from roots to ends.
Apply heat and use a paddle brush to direct the heat down under the horseshoe parting on the sides and back.
As you move toward the top, push the hair to move forward and toward the top. Elevate the top by using your fingers or brushing the hair up.
Finish by running your fingers through the horseshoe area to blend the hair together.