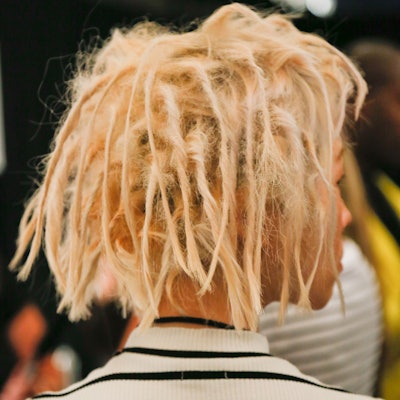 The hair looks for the Runa Ray Spring/Summer 2017 collection were created by Jorge Luis for L'ANZA Healing Haircare and featured bold updos inspired by the traditional dreadlocks worn by holy men in India (called Jata in ancient Sanskrit). The sculpted rolls of hair served as a textural counterpoint for the linear lines, sensual form-fitting fabrics, cool cream colors and jewel tones of the beautiful Origami-inspired collection.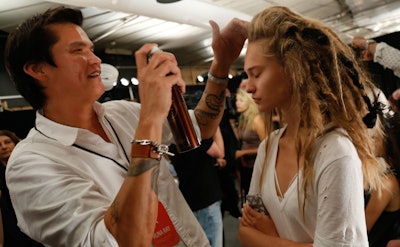 "This is one of my favorite collections," said Jorge Luis, "so evolved and modern. Since Runa was born in India, we went back to her roots for hair inspiration and created updos made up of rolled Jatas in contrast with the designs. Each updo was made to be organically individual and unique."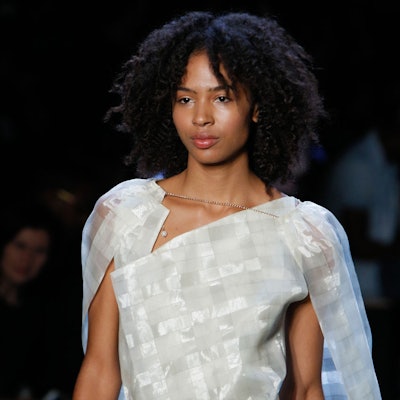 Get the Look:
Prep the hair with L'ANZA Keratin Healing Oil Hair Treatment to condition and smooth strands for easier sectioning and styling.
Take 1 1/2-inch round sections, rub a bit of L'ANZA Healing Style Molding Paste between the palms and apply on each section from root to end. "I used this to thicken the hair, add separation between strands, and give a soft sheen," said Jorge Luis.
Tease the entire length of the section (after paste has been applied).
Place each teased section between the palms and roll hair to give a tubular effect.
Gently flatiron the entire rolled strand to lock in the teasing effect.
Continue to create Jatas by taking random-sized sections all over the head for a more individual look. Roll small pieces of silk fabric into selected front or back sections.
Pull the Jatas up to the top of the head and shape them into an updo and pin. "We created different variations of updos depending upon the length of a model's hair," said Jorge Luis.
Finish with a light mist of new L'ANZA Color Illuminator Hair Brightening Spray to add a touch of brightness to the hair.