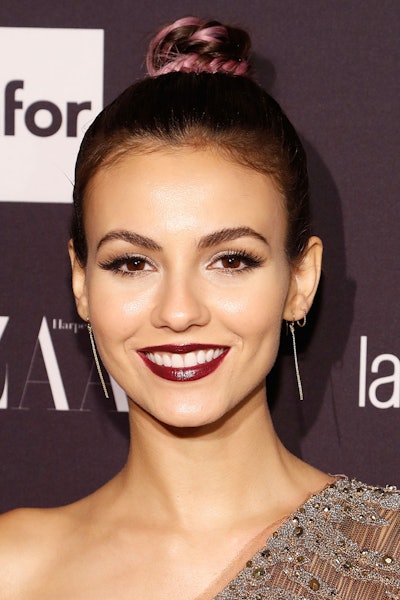 For her recent appearance at the Harper's Bazaar Celebrates ICONS Party at New York Fashion Week, actress Victoria Justice paired her show-stopping Roberto Cavalli cocktail dress with a fun, lilac-tinted topknot. Joico celebrity hairstylist Paul Norton, who created the look, completed the look with a fishtail braid accent for an extra dose of edge. Recreate this style for your clients with the how-to below!
Get the Look:
Start by tousling the hair dry with Joico Joiwhip.
Smooth out all the edges around the hairline to create a ponytail.
Grab a thick triangle section from the top of the head, separate it and clip the rest out of the way. Using Joico Instatint (Pink and/or Orchid), spray in a swiping motion from roots to end. Tip: feel free to layer and incorporate one or both colors to intensify the look for an edgier appearance.
Once the hair is completely covered with Instatint, use a blow dryer on cool to blow the hair down the shaft to help smooth and dry any damp areas.
Spray the entire head lightly with Joico Hair Shake from roots to end.
Gather the hair into a high ponytail and secure with an elastic band.
Turn the pony into a fishtail braid and secure the end with a clear elastic.
Depending on desired texture, either roughen up the braid by gently pulling it apart by tugging on it side to side while spraying Joico Hair Shake, or use Joico K-Pak Protect and Shine Serum to smooth out the fishtail to add ample shine.
Once you have achieved desired texture, twist the braid until it begins wrap itself around the foundation of the elastic, anchoring with bobby pins.
Lastly, use Joico Flipturn hairspray to smooth out any fly-aways and hold the look in place.