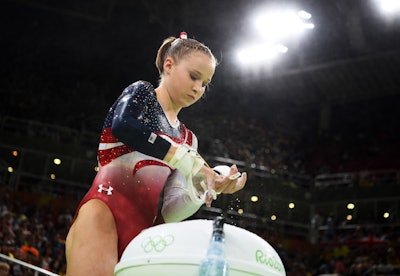 Olympic gymnasts are known not only for amazing feats on the uneven bars and balance beam, but for their super slicked-back, high and tight hairstyles as well. Ever since Nadia Comaneci tumbled her way to a perfect 10 sporting girly hair bows, world champion gymnasts have been injecting personality into their on-the-floor style.
This year was no different, with the US's Final Five showcasing an array of fun looks from Gabby Douglas' pulled-back topknot, to Laurie Hernandez's fluffed ponytail, with a healthy dose of glitter and accessories all around. But arguably the most interesting look from this year's cream of the crop was Madison Kocian's horizontal crown braid. Pulled back into a sleek ponytail, and often accessorized with an all-American red, white and blue bow, the style added texture and personality to Kocian's look.
Inspired by the look, hairdresser and SUDZZfx educator Katee Petro recreated it for her own daughter, who just so happens to be a gymnast-in-training herself. "My 10-year-old is proud to be a member of the North Stars, which is the No. 1 gym in the country, according to the Junior Olympics Association," says Petro. "When she competes, we use [SUDZZfx] Chizel because it has such a firm hold. Hair stays in place, even more so when it's applied to wet hair, and doesn't flake."
Get the Look:
Petro starts by applying SUDZZfx Chizel Hard Rock Gel to her daughter's wet hair.
She then combs through and braids at the crown before pulling the hair back into a ponytail or bun.
Next, Petro sprays AeroFixx Working and Finishing Spray to hold the hair in place.
To finish, she sprays a few mists of Liquid Luxe Luxury Mist to reflect light way up in the stands.