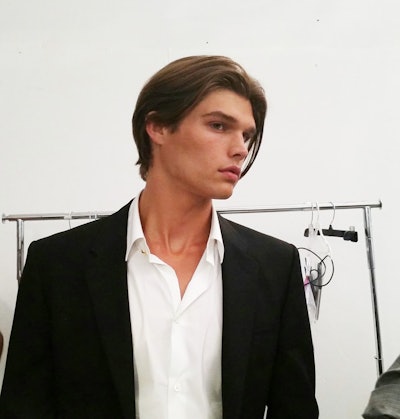 The models at the Cadet show at New York Men's Fashion Week in New York City don't look like demi-gods from an ancient past by accident; the inspiration for the collection is "Roman Legion." These Adonis incarnates are equal parts soft and strong, thanks to natural, textured hair and dewy, bronzed skin.
"My reference was Roman sculptures like Cesar, or the statue of David," explains Oribe Lead Hairstylist Nathan Nguyen. To get this look, he applies Foundation Mist and Crème for Style, which he works into the hair in a deliberate but delicate manner "so as not to disturb their natural texture but to slightly create a lift and hold," he explains. Following this, Nguyen mists locks with Hair and Body Oil "to replicate sweat." Though the models could easily be warriors, there is nothing rigid about the hair; tresses are organically sculpted and unfussy.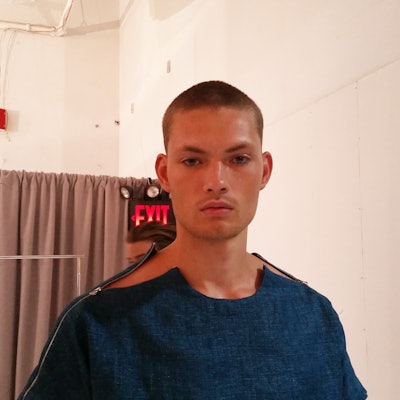 To bring your own Roman statue to life in the salon, have fun with your interpretation of the look. "A lot of hair is conceptual: Break it down and make it your own," advises Nguyen. "I think it's about understanding the line you are working with and the texture that you have in your chair; with Oribe everything is very specific but also organized, so if you understand the texture you shouldn't have any issues with products," he adds.  
To translate ancient Rome into a beauty look for men, Make-up Pro Creative Director and Lead Artist Cheve Chan slightly grooms eyebrows "to keep the masculinity." For skin that is glow-y but with a matte finish, Chan preps skin with the Lip Treatment, "which gives it a little bit of that dewy look," she explains. The focal point of the makeup is the Onyx Black Eyeliner, which she applies to the waterline for a Romanesque style. To keep men looking masculine, Chan follows the classic adage that less is more. "It's about enhancing features," she notes.