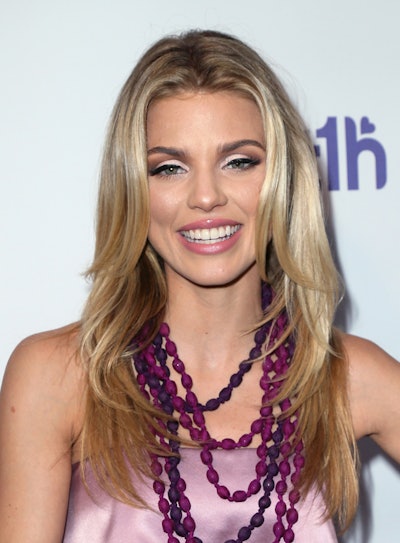 Actress AnnaLynne McCord recently hosted the Together1heart Charity Launch Party at the Sofitel Los Angeles in California. Together1heart is an organization dedicated to eradicating all forms of slavery around the globe - a cause that is very near and dear to AnnaLynne's heart. The event marked the launch of the Together1heart organization's aim at ending the abusive sex trade in Cambodia, and after her 8-year crusade to end sex trafficking in the region, AnnaLynne not only served as the evening's host, but is also now the organization's CEO.
To accentuate AnnaLynne's gorgeous smile and complement her flowing, easy breezy, satin mauve Hayley Paige ensemble, Joico celebrity hairstylist and spokesperson, Paul Norton, chose to create a simple yet chic 'do. Mega-watt shine and sleek strands resulted in a look that was both effortless and beautiful.
Get the Look:
Treat the hair with Joico Luster Lock for 3-7 minutes from roots to end.
Apply a quarter-sized amount of Joico Heat Set to already damp hair from mid-shaft to ends.
Next, apply a quarter-sized amount of Joico JoiWhip at the root only, then brush through with a comb or a flat brush.
In sections from the bottom to the top, begin to blow-dry, using a large boar bristle round brush or a metal brush if hair is more resistant to holding body and bends.
At the crown, or "mohawk" section, grab horizontal sections of hair - working your way back away from the face - and blow-dry straight up and out from the head, rolling each section down and allowing it to cool on the brush for more body and volume.
Spray the ends with Joico IronClad and gently run the flat iron over the ends as you bevel the ends under, leaving them slightly round.
Lastly, finish with Joico Flip Turn for a slightly bouncy hold.
 
"Voila! An easily attainable, gorgeously flowing look that added healthy shine and luster to her hair and highlighted her beaming smile and joyful spirit," says Norton.