It's officially summer, and there's no better time to hit refresh and try out a new hairstyle. With sunny days turning into warm nights, your clients are going to be looking to you for the hottest trends this season.
"When my clients arrive a topic of conversation is always about what is the next new trend," says celebrity hairstylist and trendsetter Fashion Hendricks, who has appeared on Jerseylicious, The Nate Berkus Show, and Tyler Perry's Meet The Browns, amongst others. "I love introducing them to simple ways to spice up their relationship with their hair." Below, Fashion shares 5 easy summer trends you can try out on your clients to quickly change up their whole look. As Fashion says, "The happier the client, the more generous the tips, so start suggesting these summer trends now!"
Disco Curls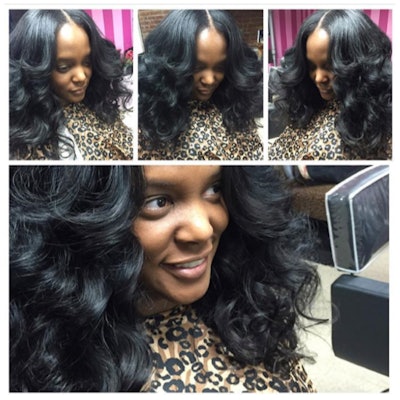 "The 70's are back with a bang - high waist, flared, leggy pants and a boho chic vibe is hands down exactly what your clients have been dying to try but don't know how to," says Fashion. "What better way to introduce your clients to the trend and freshen up last year's summer beach waves? Celebrate that era and get your customers in the mood with some fun volume-boosting disco curls. They complement every face shape. Start by parting hair in the middle. Use a curling wand to perfect this look by curling hair in different motions - some forward and some backwards. Run fingers through strands and apply a brush-able holding spray to finish the look."
 
Halo/Crown Braid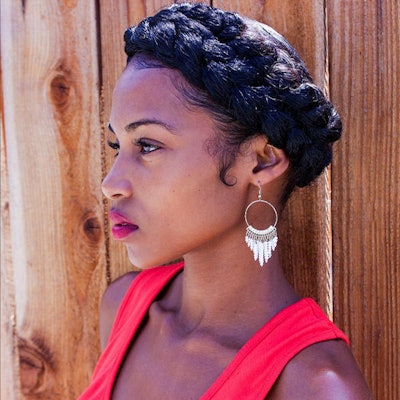 "With wedding season in full bloom, as stylists, we have to think of countless ways to create beautiful wedding styles that will hold up though photoshoots, tears, and hugs. My simple wedding go-to that's super on-trend is a halo braid," shares Fashion. "To create, start at the top of your client's head. Brush or comb the hair straight down. Using a braiding paste or beeswax, take a quarter-sized amount, warm it up in your hands, and smooth down on hair to eliminate fly-aways. Using two packs of Kanekalon Braiding Hair, take your first pack and stretch it to make both ends more jagged and uneven. Starting from the back of the head, make a small vertical part and start creating a French braid, going around the head in a circular motion. Keep in mind the second pack of Braid Hair is needed to add in when you start your motion toward the back to make sure the braid remains thick. Once you have braided in full circumference and are at the point where the braid first began, finish the remainder of the braid down past the point of the client's natural hair, then burn off/melt the end with a flat iron. Tuck remaining tail into the halo braid to create one fluid circle. Pull on the braid in sections to widen the look of the braid. Spray with hair spray to finish."
 
Man Cut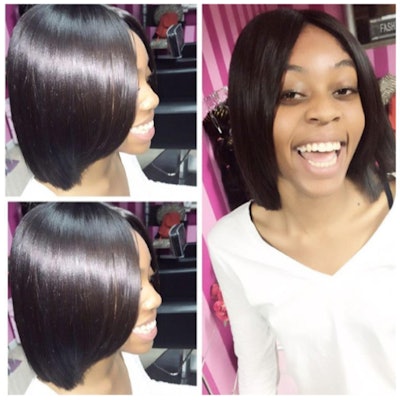 Says Fashion, "This androgynous cut is edgy, easy to wear and no fuss. Sharp lines with straight, sleek styling is the best way to achieve this look. This kind of look can easily be for a man or a woman. If you have female clients that love a power suit, then try this style on them to complete the look."
 
Etched Clipper Cuts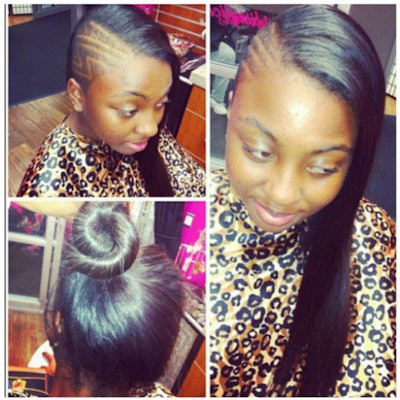 "Personally, I'd like to try anything Halle Berry is doing," says Fashion. "Recently, she has effortlessly ushered back in the shaved sections when she made a statement on her Instagram showcasing her nape shaved down with designer parting. Create this look by using your peanut edgers to create patterns and designs. No one client should look like the other. Endless detailed options can be done - be creative!"
 
Braided Accents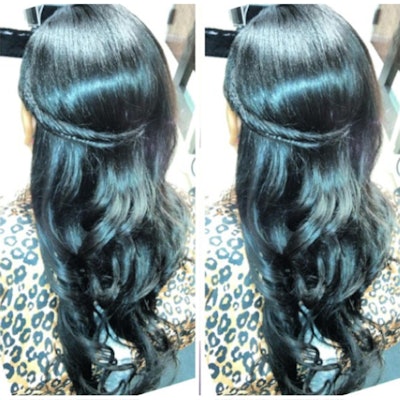 "Like jewelry adorns the body, do the same with braiding. One simple braid can update the regular style your clients always asks for," shares Fashion. "This is perfect for the client that arrives and always says, 'give me the usual'… not this time! A braid accent is uber in style and not permanent, which the client will love. They won't be afraid of trying something new. Pictured here is a four-strand braid, braided down, secured with an elastic band, swept back and secured with a bobby pin. All clients will say yes to this, so go for it!"
For more from Fashion, be sure to follow her on Instagram @fashion_hendricks and on Twitter @nycweavestudio.