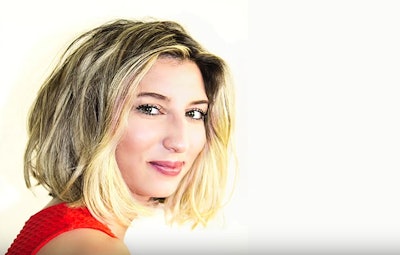 "Clients struggle with styling hair at home, especially when it comes to creating beachy waves, because a curling iron can be a difficult tool to master," says Ruth Roche, Artistic Ambassador for Pureology Serious Colour Care. "So, break out those hot rollers - they're easier to use and create a really cool unstructured wave!"
Get the Look:
Start with the top front section, spray with Pureology Colour Stylist Supreme Control High Hold Hairspray and wrap hair around the roller leaving the ends out. Secure with roller pins.
For the sides, follow the same technique, rolling the hair away from the face until the bottom section.
For the bottom section, spray and wrap hair all around a larger roller, including the ends, and hold with hands while it sets. Then, unwrap and scrunch hair with hands to create an uneven wave.
Once entire head is set and cooled, take rollers out, run fingers through hair and spray again for hold.
 See the style in action in the video below!
"Hot rollers can create those soft, tousled, 'I-didn't-try-too-hard-waves' that everyone wants right now," says Roche.
Advise clients to break out those hot rollers again – anyone can spray, roll, secure, unwind, cool and scrunch! Look for other tips and tricks on www.ruthroche.com.