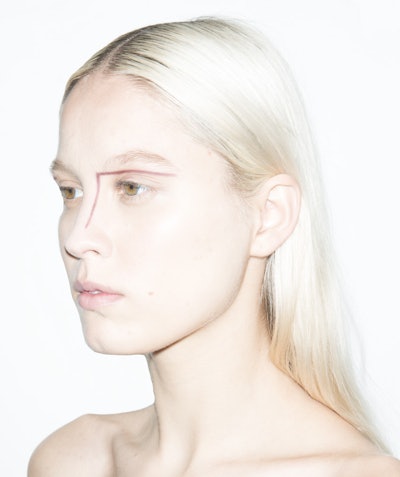 Redken Global Creative Director Guido showcased each girl's personality by celebrating their individual hair texture at the Akris Fall/Winter 2016 show during Paris Fashion Week F/W 2016. "Each look at the Akris show was very individual, and we wanted to celebrate and emphasize the varying hair textures," says Guido. "I used different products on different girls to ultimately achieve a similar look on all, but the goal was to showcase each girl's personality. Depending on the hair type, I either added a bit of texture using wind blown 05, or calmed it down and smoothed it out with glow dry oil."
Show: Akris F/W 2016
The Look: Luxe Locks with Individuality
Stylist: Guido
How-To:
Start with clean hair by washing with Redken's Diamond Oil High Shine Shampoo and Conditioner.
Apply 1-2 pumps of Redken satinwear 02 prepping blow-dry lotion into hands and apply to damp hair. Comb through.
Use fingers to rough-dry hair, directionally blowing the hair downwards.
Once hair is dry, tuck hair behind the ear on both sides and lightly spray with Redken windblown 05 dry finishing spray all over.
Apply 1-2 pumps of Redken glow dry style enhancing blow-dry oil to tame fly-aways and add shine.