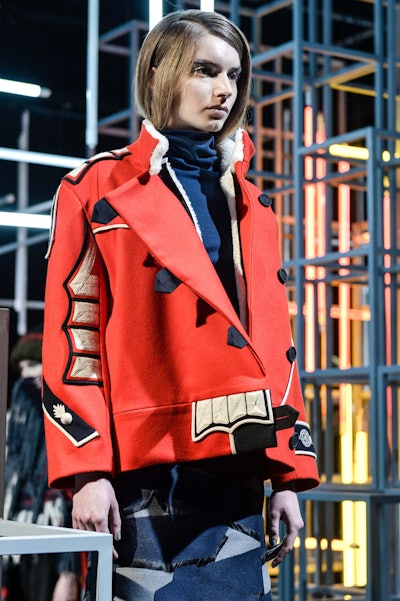 Lead hairstylist and TIGI European Session Director, Maria Kovacs, created an understated, natural hair look to complement Christopher Raeburn's military-inspired F/W 2016 collection at London Fashion Week. A deep side part lent a subtle touch of drama to models' faux-bobs.
Show: Christopher Raeburn F/W 2016
The Look: Military Fobs
Stylist: Maria Kovacs
How-To:
Prep the hair by spritzing CATWALK by TIGI Bodifying Spray onto dry hair.
Blow-dry the hair back away from the face to smooth the cuticle.
Create a clean, off-center part to the right, sweeping hair to the left.
Blow-dry the hair so that it's straight and glossy from root to tip.
Smooth hair either side of the right ear to allow the ear to be on show, and tuck the front strands on the lefthand side behind the ear to keep hair off the face.
Tuck hair into the top of clothes, which will naturally bring the middle section of hair out to create volume.
Set the look with CATWALK by TIGI Work It Spray.