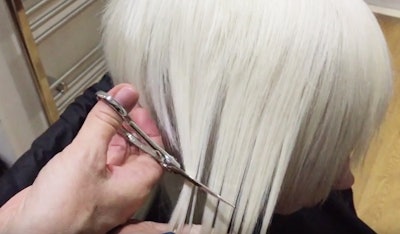 "I love Salon International! I'm always so inspired after and this year I couldn't hold it in," says Ruth Roche, Artistic Ambassador for Pureology Serious Colour Care. "So, while in London, I created a disconnected, two-tiered cut with a 70's influence for my friend and fellow stylist Tammy."
Check out the haircut in action in the video below!
Highlights From the London Inspired Cut
Create three sections from front to back – top section will be longer so it falls over the middle section, middle section will be shorter than the top and the bottom section will be visually blended with a longer length around the edges.
Cut middle section1 1/2-inch long.
Blend short hair into the veil softly for invisible disconnection.
Starting at the back of the ear, cut top section 3 inches straight across from crown to front hairline at a diagonal and over-directed.
Carve out a soft line around the ear.
 
"This was so much fun – I love when the creative juices are flowing and I have a willing subject in my chair…especially when it's another stylist," adds Roche.
Look for other inspirational tips and tricks on www.ruthroche.com.