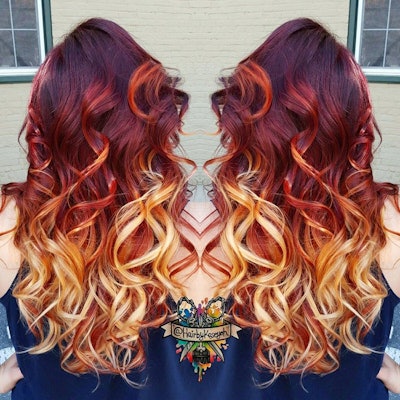 Hairstylist Kasey O'Hara Skrobe recently created this red-hot hair color for her client. Sharp contrast and fiery hues result in a stunning, fearless look. Recreate Kasey's Fire Ombré with her how-to below!
Get the Look: The Fire Ombre
Says Kasey, "Mix Jack Winn Color 5M, 4R and 10 volume in equal parts (Formula 1); 6R and 10 volume (Formula 2); 20 volume Jack Winn Color Brilliant Lightener.
"Apply Formula 1 (5M/4R) from the roots to about 3 inches down, all over.
"Take Formula 2 (6R) and pull through a few thin pieces, blended with root color to end (I like the to use #embeemeche foil alternatives to separate).
"Apply the Lightener on the pieces remaining (I hand-paint [the color], starting at about one half inch into the root shade), color-melting the Lighetner into remaining ends (separate with #embeemeche foil alternatives).
"Process until hair reaches the desired blonde shade and rinse with cool water to avoid red going onto the blonde. Shampoo with sulfate-free shampoo, condition, and style. I blew it out with a round brush, then curled with a 1-inch barrel."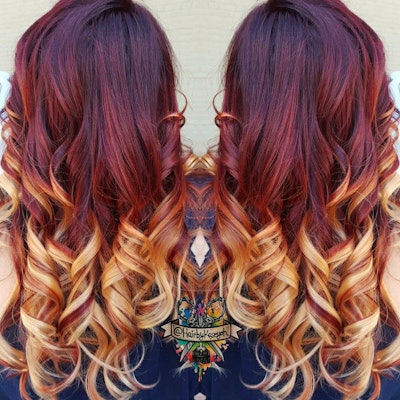 For more from Kasey, follow her on Instagram @hairbykaseyoh.