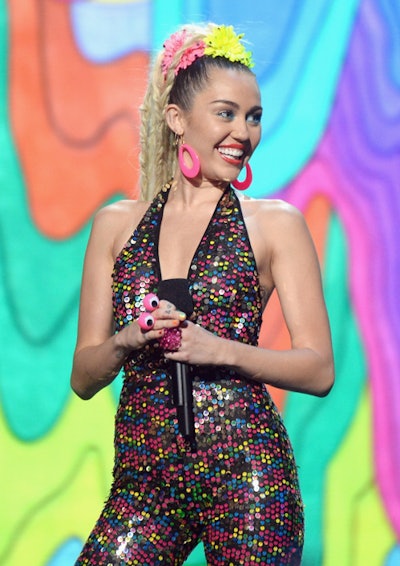 MTV's annual Video Music Awards (VMA's) are known for pushing the envelope. From eye-catching red carpet fashion, to over the top beauty looks, the VMA's are home to some of the wildest, most unique celebrity looks of the year. Last night's VMA's were no exceptions. From host Miley Cyrus' numerous wardrobe changes, to the edgy, fashion-forward hairstyles seen on last night's performers and A-list audience members, the 2015 VMA's delivered all the fun, crazy, and iconic looks we've come to expect.
Recreate some of your favorite looks from last night's VMA's with our list below! (Click any name to see the hairstyle how-to!)
Miley Cyrus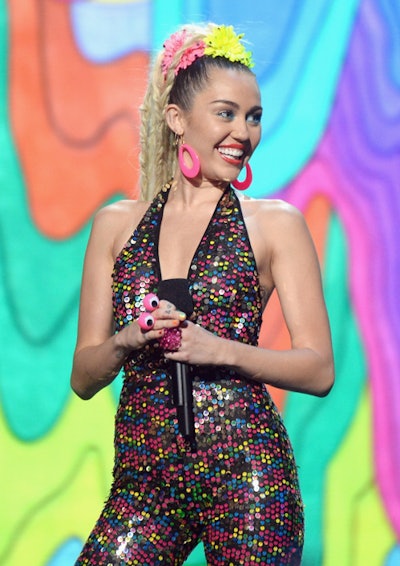 The Look: An over-the-top textured ponytail accessorized with a rotation of handmade accessories.
Hairstylist: Gregory Russell

Get the Look:
1. Apply a generous amount of TIGI Bed Head Hard Head Gel to wet hair and tightly comb hair towards the crown to create a ponytail. Secure the ponytail in place with a bungee band and use a diffuser to dry the gel base.

2. Next, apply TIGI Bed Head Joyride Texturizing Powder Balm to the ponytail for second-day texture in an instant and blow out using a flat brush.

3. Then, apply a pearl-sized amount of TIGI Bed Head Hard to Get Texturizing Paste to 2-3" sections of the hair ponytail band to ends.

4. Twist each section around itself then use a comb to tease the twist. Repeat this technique through the ends for a "dreadlock" look. Add TIGI Bed Head Manipulator Matte down the twist for a matte finish.

5. Finish with TIGI Bed Head Hard Head Hairspray.

Back to Top
Rita Ora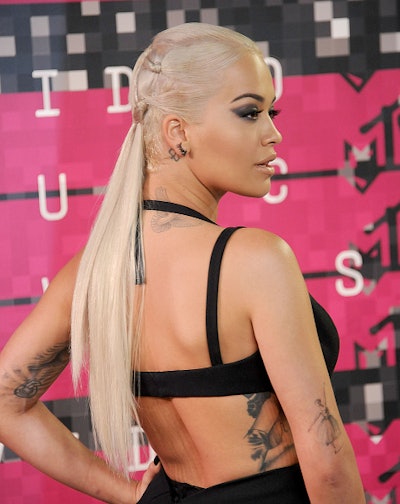 The Look: Iconic platinum, inspired by Rita Ora's paneled dress.
Hairstylist: Chris Appleton

Get the Look:
1. Says Appleton, "Since Rita's hair has a great natural curly hair texture, I prepped the hair with Biolage Cleansing Conditioner Anti Frizz Leave in Treatment.

2. "Then, I blow-dried the hair, using a combination of Style Link Smooth Setter Smoothing Cream and Style Link Turbo Dryer. We blow-dried her hair with a flat brush to give it a smooth, sleek look.

3. "Next, I divided her hair into clean sections with Style Link Shape Switcher, tying off each section.

4." I created six ponytails that are interconnected, and applied Style Link Heat Buffer, before flat ironing out her look.

5. "We finished it off with some spritzes of Style Link Style Fixer to fix it off to ensure that the look stayed put all night. I stayed away from using anything volumizing, or anything with too much of a dry texture, as I wanted to keep the look very smooth and sleek!"

Back to Top 
Tori Kelly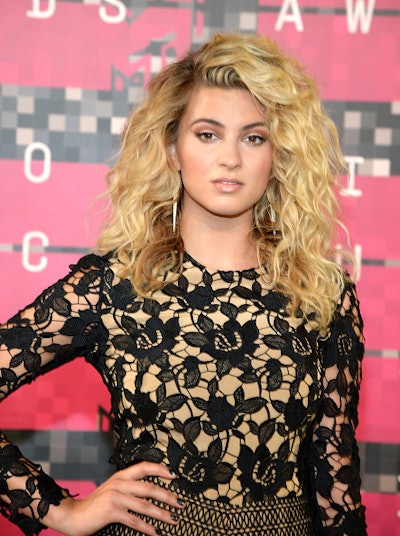 The Look: Healthy, bouncy curls
Hairstylist: Nikki Providence

Get the Look:
1. Says Providence, "Tori was blessed with lots of beautiful naturally curly hair - when you have curly hair, the most important thing is to keep it healthy and use products that support the natural texture. Biolage Cleansing Conditioner is great to prep hair like Tori's because it cleans the hair without stripping its natural oils.

2. "When her hair was wet, I applied Style Link Volume Builder at the roots.

3. "Next, I spread a generous amount of Style Link Smooth Setter with a few drops of Style Link Volume Booster at the roots throughout mid lengths making sure to distribute it evenly through the ends.

4. "Part the hair deeply on one side. Take 2-inch sections of hair and twist them into ropes. Diffuse gently without disturbing the twists, until the hair is completely dry.

5. "Using your hands, shake the hair out at the roots to boost volume and separate the curls slightly. If any areas need a boost, now is the time to use a medium sized curling iron to touch up waves - make sure to keep the natural movement in the hair, don't make every section uniform!

6. "At the roots, use Style Link Height Riser, and finish with Style Link Volume Fixer to keep the volume through red carpet and performance!"

Back to Top
 
Gigi Hadid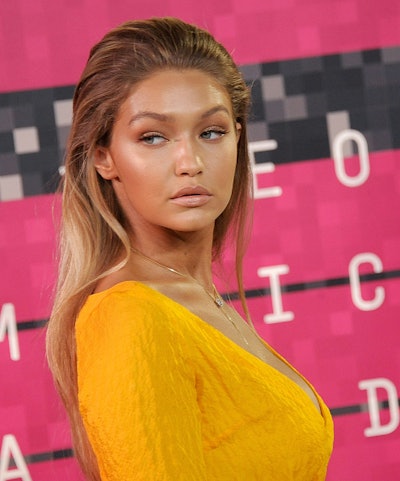 The Look: A slicked-back style to pair with glowy skin.
Hairstylist: Pureology International Artistic Director Wendy Bélanger provides sample tips below.

Get the Look:
1. Apply Pureology Colour Stylist Root Lift spray hair mousse to damp hair at base and the new Smooth Perfection Style Shaping Gel (available in salons and ulta.com beginning Sept. 1st) to the ends.

2. Directionally blow dry the hair back and off of the face using a flat brush at the base and a round brush at the ends.

3. Back-comb the hair from the crown forward in horizontal sections, laying one section over the other to the back of head.

4. Smooth hair with a soft bristle brush and finish with Pureology Colour Stylist Strengthening Control zero dulling hairspray for a lasting hold.
FKA Twigs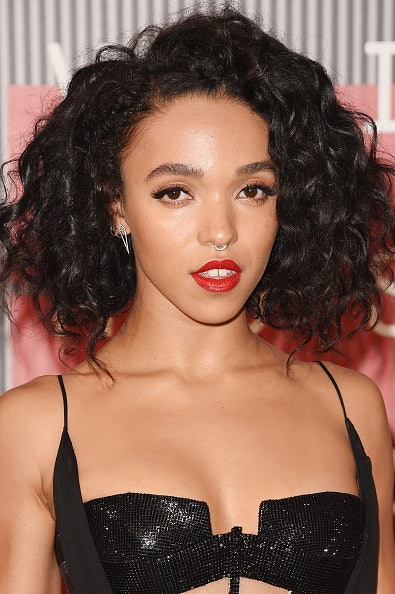 The Look: Curly, undone texture to complement her Versace Couture gown.
Hairstylist: Christian Wood

Get the Look:
1. Apply TONI&GUY Classic Shine Gloss Serum to wet hair and diffuse dry to enhance the natural curl.

2. Next, use a small curling iron on the entire head and leave to cool for 10 minutes.

3. Then, start at the nape of the neck and use a tail comb to brush out the curl and back comb at the root to create volume and texture.

4. Next, spray the entire head with TONI&GUY Casual Matt Texture Dry Shampoo and twist small sections of hair. Using a comb, gently back comb to create a matte rough texture at the root.

5. Finish by tipping the head upside down and spraying with TONI&GUY Glamour Firm Hold Hairspray.
Demi Lovato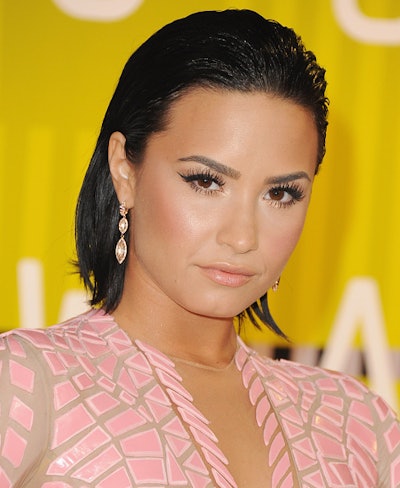 The Look: Super-sleek and shiny
Hairstylist: Clyde Haygood

Get the Look:
1. Start with freshly blow dried hair.

2. Drench the dried hair with the Uberliss RituOil from roots to ends, to create a wet and shiny look.

3. Comb back the hair to evenly distribute the Uberliss RituOil and to prepare for straightening.

4. Use the Uberliss Ultra Titanium Pro Flat Iron on 1-inch sections to straighten the hair completely.

5. Add more Uberliss RituOil to make the look as sleek as possible.
Vanessa Hudgens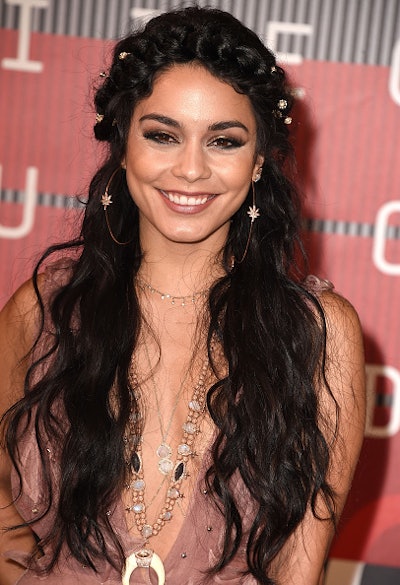 The Look: Boho-glam locks with jewel embellishments
Hairstylist: PRAVANA Global Creative Advisor Sherri Jessee shares her tips below.

Get the Look:
1. Begin by distributing an egg-sized amount of NEVO Full Volume Volumizing Mousse through damp hair. Rough dry the hair, squeezing as you dry. Do not brush your hair.

2. Wrap random sections of hair around a 1 1/4" curling wand, alternating directions.

3. Create a Dutch braid (start with three sections of hair, braid underneath one another instead of over), framing the face. Braid until you reach the ends, securing with a clear elastic band.

4. Wrap the tail end of the braid around the head like a crown and tuck the ends beneath the base of the braid in the front hairline. Pin to secure.

5. Accessorize with small jeweled flowers for a touch of glam.