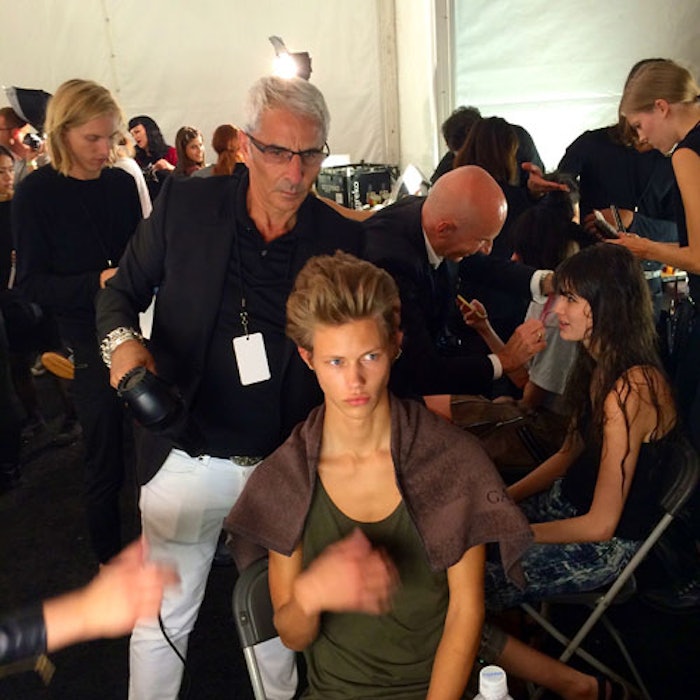 Inspired by the psychedelic posters of Nigel Wentworth and the work of graphics collective Hapshash and the Coloured Cat, Anna Sui evoked the spirit of swinging London during the '60s and '70s for her Spring/Summer 2015 collection, which she's calling "Kozmik Rock Star." Hairstylist Garren complemented Sui's vision with messy, undone, textured hair with personality. "I wanted to recreate the shag with its great movement and Rolling Stones/Keith Richards/Jimmy Page/young vibe," Garren said of his homage to shag master John Sahag. "It's like cool kids in a band playing outside in the wind." Since the models had varying lengths of hair, Garren let their individuality show but created a common thread with his "Jagger"-esque style.
Get the Look:
Apply R+Co CHIFFON Styling Mousse throughout damp hair and use hands to blow-dry until hair is about 80 percent dry. "I wanted to give the look of people in the '60s and '70s who just shampooed their hair and let it go… it took on their personalities," Garren explained.
Once the hair had finished drying on its own, Garren sprayed in R+Co ROCKAWAY Salt Spray to add texture and separation where needed.
On very long-haired girls, Garren used R+Co DEATH VALLEY Dry Shampoo throughout the lengths to add some airiness to the hair.
To hold the volume, Garren finished with R+Co OUTER SPACE Flexible Hairspray.

[Images courtesy of Luxury Brand Partners]