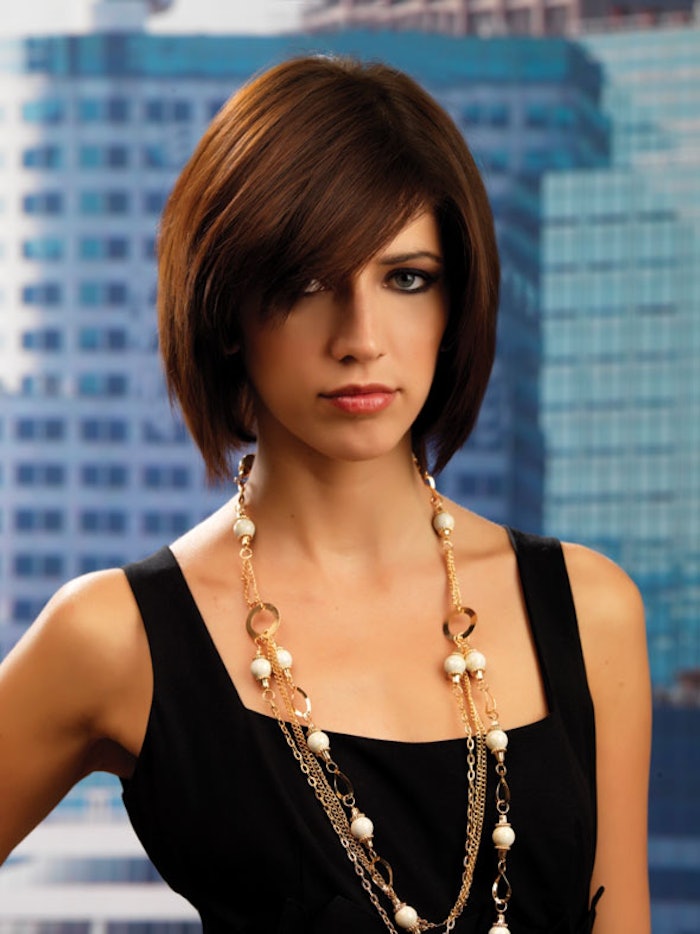 Hair: Diadema Hair Fashion
Makeup: Cristina Marzo per 20100 Milano
Photography: Stefano Bidini
---
Step 1:  Blunt cut the hairline four fingers from the scalp.
Step 2:  Comb both sides behind the ears and blunt cut those sections.
Step 3:  Pull the fringe down to the ends of the eyebrows. Point cut to trim.
Step 4:  Blend the fringe to the contour of the face, leaving only the lower corner.

Step 5:  Top to crown: Overdirect to lengthen.
Step 6: Layer sections horizontally, pulling up to the top and cutting both sides.
Step 7:  Pull the back layer up perpendicularly, and cut straight across to shorten.
Step 8:  Divide the hair into three sections. One of these will form the back center.
Step 9:  Start cutting the graduations from the center back, cutting perpendicular to lengthen.
Step 10:  Make diagonal sections on the sides and blend to the back hairline.
Step 11:  Personalizing: Take sections starting from the top.
Create diagonal sections in line with the crown and thin with thinning shears.
Step 12:  Bring the lower section up and blend in with the crown.
Final Photo:
---
Click for More Hair Styles How To's SHORT CUTS:
Click for More Hair Styles How To's MID-LENGTH/LONG CUTS: