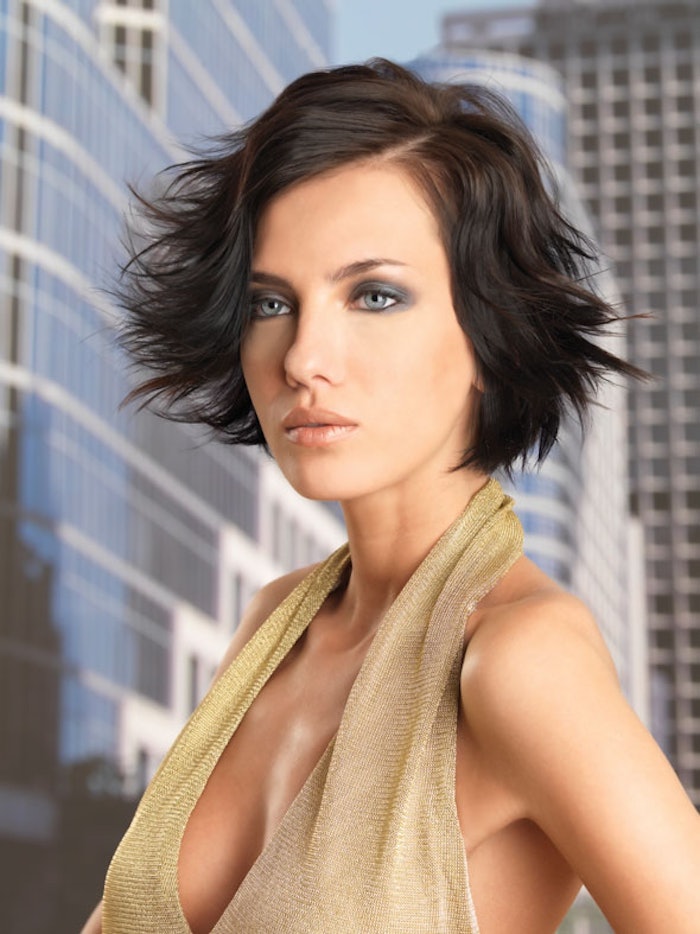 Hair: Diadema Hair Fashion
Makeup: Cristina Marzo per 20100 Milano
Photography: Stefano Bidini
---
Step 1:  Cut the hairline two-fingers distance from the nape area with a razor.
Step 2:  Slightly lengthen the sides with a razor.
Step 3:  Make a triangle section for the fringe and divide it in half.
Cut the point between the mouth and chin.
Step 4:  Blend the sides to the longest point of the bangs, making a slight curve toward the chin.
Step 5:  Isolate a section from the occipital to the temples in the back.

Step 6:  Thin the entire lower part of the hair with a razor, lifting the sections to the height of the earlobes.
Step 7:  Shorten the top by point cutting with straight scissors.
Step 8:  Start layering from behind in the occipital-crown area.
Pull the sections up vertically and cut to shorten.
Do both sides but not the fringe area.
Step 9:  Thin the triangle of the fringe to lengthen with straight scissors.
Step 10:  Thin the dried hair by following the line of the cut, pulling the sections up and going in with scissors.
Step 11:  Use the same technique around the entire head.
Final Photos
---
Click for More Hair Styles How To's SHORT CUTS:
Click for More Hair Styles How To's MID-LENGTH/LONG CUTS: