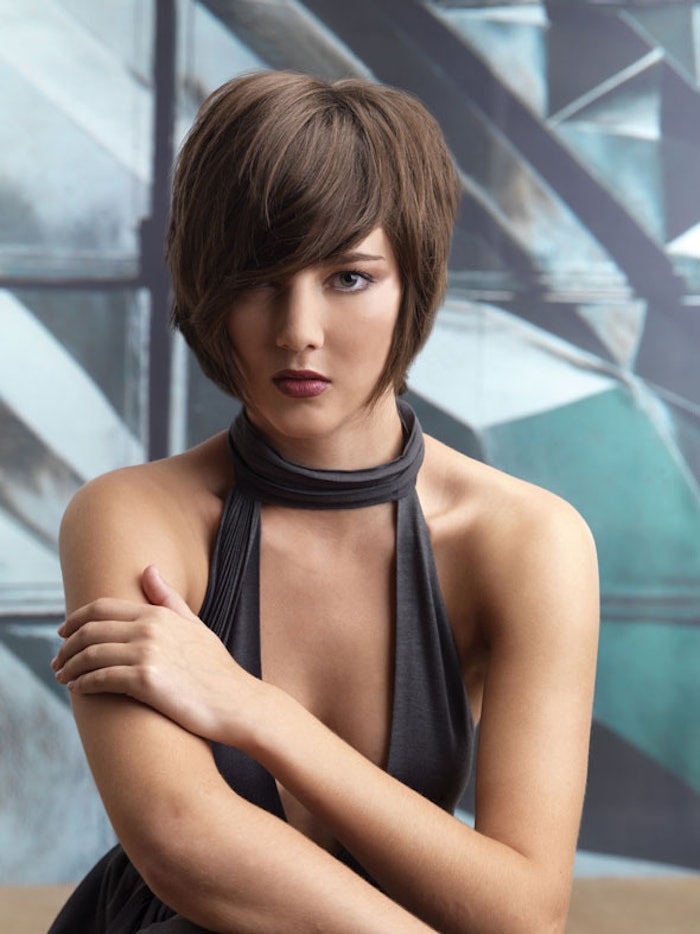 Hair: Diadema
Makeup: 20100 Milano
Art Director: Fabio Messina
Extension: Zeropiù
Photographer: Stefano Bidini
---
Step 1:  Cut hairline in a zigzag pattern.
Step 2:  Continue zigzag cutting toward ear.
Step 3:   Cut front section from 2 cm below the earlobe down to the chin (on both sides).
Step 4: Bangs: Create a triangle.
Comb it over the left eye, rotate the fingers to the left and point cut to the nose to achieve lengthening.  
Step 5:  Connect only the left side with a natural fall. Rotate like the bangs and freehand cut.
Step 6:  Isolate a 3 cm circular section between the top and the crown.
Hold it vertical and feather cut.
Step 7:  Start from the left side and overdirect, gathering in the layers and the graduations.
Step 8:  In the back, layer at 90º.
Step 9:  Continue graduations from ear to ear perpendicularly.


Step 10:  Slide down the sides diagonally with a razor.
While shaving, bring the sections up and to the center.

Step 11:  In the back section, use thinning shears at a diagonal, pointing shears downward.


Step 12:  At the crown, separate back sections and razor shave from underneath.
Final Photos:
---
Click for More Hair Styles How To's SHORT CUTS:
Click for More Hair Styles How To's MID-LENGTH/LONG CUTS: