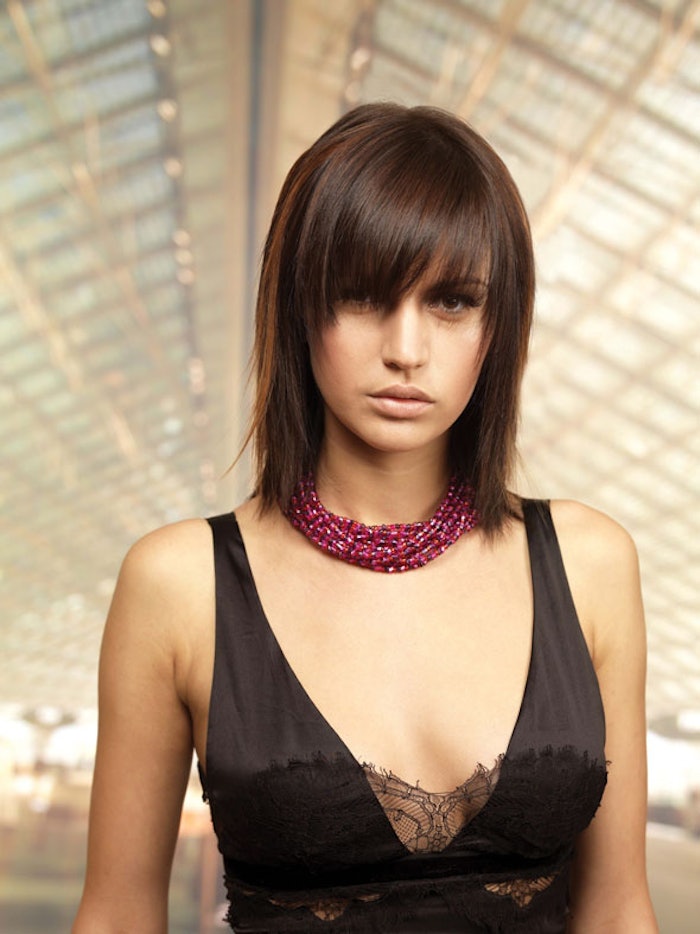 Hair: Diadema
Makeup: 20100 Milano
Photographer: Stefano Bidini
---
Step 1:  Hairline: Comb hair straight down and point cut to collar length.
Step 2:  Proceed point cutting up the sides to chin length.
Step 3:  Fringe: Create a triangle section and point cut with fingers turned upward toward the tip of the nose.
Step 4:  Blend the sides and front by dividing hair from ear to ear.
Pull hair forward and towards the nose tip, point cut with fingers turning up.
Step 5:  Pull hair toward the front and slide cut to blend and create length.
Step 6:  Create diagonal sections in the front, and slide cut layers and graduations on the sides holding hair perpendicular.
Step 7:  Create triangles in the back. Use a strand from the point of the triangle as a guide and bring it to the center.
Step 8:  Comb the hair up vertically and cut with thinning shears.


Step 9:  Shorten and thin graduations (following the outlines of the triangles) using thinning shears.
Step 10:  Personalize the layer by slide cutting downward in diagonal sections.
Step 11:  Fringe: Personalize with thinning shears on the ends.
Final Photos:
---
Click for More Hair Styles How To's SHORT CUTS:
Click for More Hair Styles How To's MID-LENGTH/LONG CUTS: