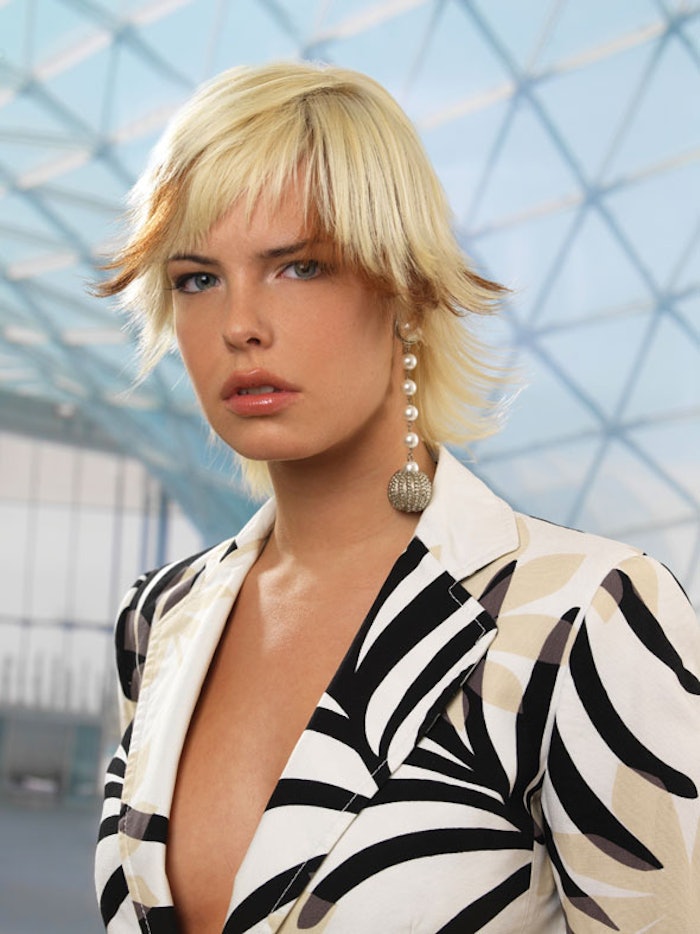 Salon: Diadema Hair Fashion
Photography:  Stephano Bidini
Makeup:  20100 Milano
Step 1:  Hair line: Cut straight across the back with a zigzag cut at collar height.
Step 2:  Fringe: Comb hair flat, straight cut at eyebrow height.
Step 3:  On both sides: Connect the bangs to the longest point in the back.



Step 4:  Crown: Cut straight across holding hair perpendicular to scalp.
Step 5:  Layer: On the sides, layers and graduations in one unique solution with a perpendicular slant, cutting with a snipping drop cut.

Step 6:  In the back, cut the layer perpendicularly to shorten in a snipping drop cut.
Step 7:  Graduations: In the back, take the sections vertically and connect them with drop cuts maintaining the full length.


Step 8:  Personalization: In the back, make a division and isolate the area to layer.
Step 9:  At the height of the graduations, create softness by using the scissors like a razor.
Step 10:  In the area of the previously layered section, create three rectangular, vertical divisions and snip inside the lock with the scissors (to give it lightness and volume).
Step 11:  On the left side, section two triangles that go from the temple to the ear and cut with the razor to maintain a long sideburn.
Step 12:  From the top to the base, select a rectangle and repeat the same technique used on the layered area.


Step 13:  On the right side, slide cut, freehand toward the face with straight-edged scissors.
Final Photos:
---
Click for More Hair Styles How To's SHORT CUTS:
Click for More Hair Styles How To's MID-LENGTH/LONG CUTS: