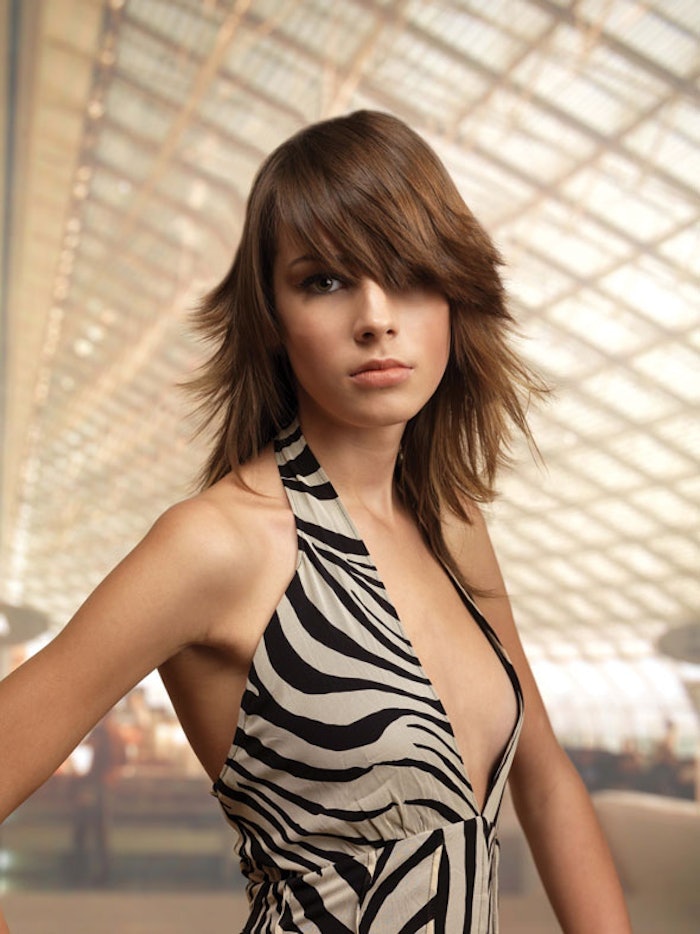 Salon: Diadema Hair Fashion
Extension: Zeropiù
Photography:  Stephano Bidini
Makeup:  20100 Milano
---
Step 1:  Comb hair straight down and point cut the back just below collar line.
Step 2:  Continue to point cut on the sides, directing hair towards the shoulders.
Step 3:  Fringe: Create a triangular section from the top area and project it over the right eye.
Point cut in a diagonal zigzag pattern from cheekbone toward tip of nose.
Step 4:  Face contour: Divide hair in a horseshoe pattern from ear to ear and approximately 2 cm. behind the ears.
Slide cut hair in a downward and forward motion.
Step 5:  Top section: cut straight across holding hair at a 90° angle from the head
Step 6:  Slide cut slightly from the top to the bangs to blend.
Step 7:  Blend and layer the sides with diagonal graduating sections from the top area.


Step 8:  Make a semicircle parting in the back,  then pull it vertically and cut straight across.
Step 9:  Make three rectangle sections in the back  directly below the crown area and slide cut in a downward direction.


Step 10:  Take the triangle of the fringe area and comb it over the right eye Elevate slightly and cut with thinning shears.
Step 11:  Repeat the same process on the sides.
Step 12:  In the back take 2 cm. sections, pull them forward and use thinning shears to cut.
Final Photos:
---
Click for More Hair Styles How To's SHORT CUTS:
Click for More Hair Styles How To's MID-LENGTH/LONG CUTS: