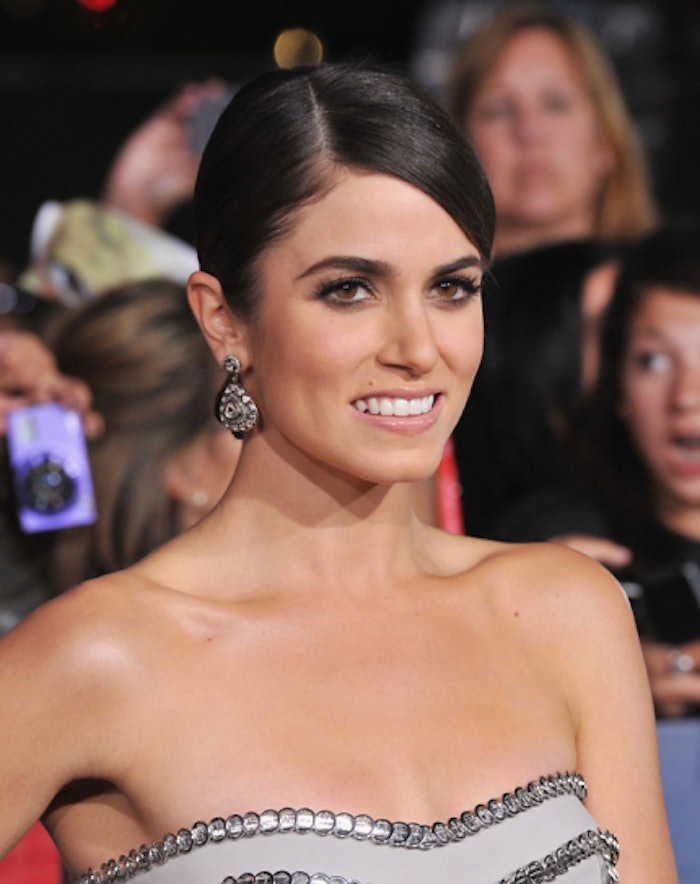 Hair Look:
Wella Professionals Stylist Mara Roszak gave Nikki Reed a structured and clean look that exuded luminosity to let her natural beauty take center stage on the red carpet at the Twilight Saga: Breaking Dawn Part 2 movie premiere in Los Angeles.
 
Mara has created the looks on Nikki for the past five Twilight premieres and went for an overall different look to compliment her amazing soft Grey with silver hardware Versace dress at the final premiere.
 
Step-By-Step Styling:
Start by applying a couple pumps of Wella Professionals Flowing Form to damp hair and brush through.
Part hair using a rat tail comb, and blow out hair with a boar bristle round brush. To tame any fly aways, apply a dime sized amount of Wella Professionals Smooth Brilliance by rubbing into the palms of your hands and through hair, starting at the ends and working your way up to the roots.
Pull hair tight to the nape of your neck and secured it with a Bungee elastic band.
Holding your pony, loop your hair under the elastic to create a small bun and secured with bobby pins.
Take the rest of your hair and wrapped it around the elastic.
To finish the look, lightly spray Wella Professionals Shimmer Delight to add extra shine and then mist all over with Wella Stay Essential Finishing Spray.
 
Hair Products:
Wella Professionals Flowing Form
Wella Professionals Smooth Brilliance
Wella Professionals Shimmer Delight
Wella Professionals Stay Essential Finishing Spray

[Image: Lester Cohen/WireImage/Getty Images]
Related:  Dermalogica "Steps Up" and Receives Recognition at Annual Inspiration Awards  |  Emma Stone at "The Amazing Spider-Man" Premiere  |  Met Ball 2012: Emma Stone  |  Sarah Jessica Parker at Barneys Holiday Window Unveiling  |  Straight from Backstage: Peter Som Spring 2013  |  Hairstyles How To: The Emmys with Julie Bowen, Elisabeth Moss and More Styled by Wella  |  Madonna's World Tour Necessities: Wella's Stay Essential Finishing Spray  |  Wella Professionals Inspires Runway Trends with Trend Vision 2012  |  Hair by Wella: Selena Gomez at the Teen Choice Awards