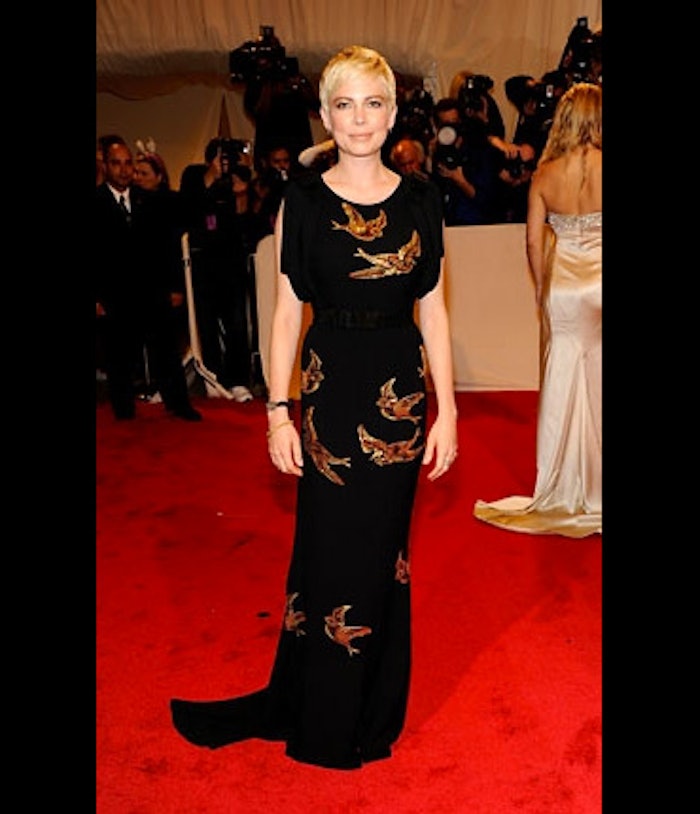 Michelle Williams looked gorgeous on the red carpet at the annual Met Ball Metropolitan Museum of Art. Wearing a beautiful Miu Miu gown accented with metallic bronze and gold swallows, and Fred Leighton jewelry, all eyes were on her fabulous platinum hair. It looked absolutely luminous and very dramatic.
 
Celebrity stylist Peter Gray shared how he created the eye-catching style for Michelle's short cropped hair:
"The dress was so beautiful with those bronzes and golds that I wanted to reflect that in her hair. I didn't want it to look styled or even blow-dried, so I created the whole effect on freshly-shampooed, naturally-dried hair. My inspiration was a modern day Jean Seberg with a "Breathless" nuance, but with a soft, sexy and defined texture."
 
"I started by trimming and squaring Michelle's hair around the temple areas, leaving the overall outline of her haircut untouched. This made the style look a bit more unusual and further brought out the beautiful features of her face."
 
"Next, I poured a bit of Moroccanoil Light, for fine and light-colored hair, into my palms then dabbed my fingers into it. I applied Moroccanoil Light on the root areas all over the head to separate the strands, to help the hair look more substantial, and give it a look of effortless volume. It gave the hair a gorgeous texture and prevented it from looking flat. It also gave the color depth and vibrance instead of appearing fine or smooth."
 
"I lightly combed the back of the head to create a nice flat shape. Then I ruffled the hair all over the head with my fingers for movement. I pushed up the Moroccanoil Light into the roots at the back and then to the sides of the head, finally finger-shaping the entire style."
 
"The finished look had a beautiful glow that complemented the design accents of Michelle's dress, and worked perfectly with the soft bronze and gold tones of her make-up."
 
"I love Moroccanoil Light. It's one of my favorite products. You can really do so much with it on shoots, including blow-drying over it, and using it as a versatile styling or finishing product. It strengthens and conditions the hair and helps eliminates frizz so everyone's happy after a long day under the lights."
 
"I like that it now comes in smaller bottles, which are great for travel -- when the scalp and hair take such a hammering. I give it to my clients to take with them when they vacation and tell them to apply it intotheir part and hairline areas after each day in the sun, as well as to their hair to help protect and bring back natural moisture."
 
The product used to achieve Michelle Williams' red carpet look:
 

Moroccanoil Light, a proprietary argan oil-infused formula, exclusively designed for light-colored and fine hair to give a natural-looking silky, lustrous shine and a frizz- and static-free finish. It strengthens, conditions and revitalizes hair while significantly reducing drying time.
 
The originator and industry leader of luxury, professional argan oil-infused styling, finishing and conditioning products for the hair, the Moroccanoil brand is world renowned for its proprietary lightweight, instantly absorbed formulas and unparalleled results.
 
Moroccanoil's argan oil is harvested under a free trade program, which provides substantial socio-economic support to thousands of families in the Southwest region of Morocco.
 
Images: "Alexander McQueen: Savage Beauty" Costume Institute Gala At The Metropolitan Museum Of Art - Arrivals:  Kevin Mazur/Getty Images, Moroccanoil: AHPR Group
Related:  Met Ball 2012: Marion Cotillard | Met Ball 2012: Emma Stone  |  Met Ball 2012: Christina Ricci |  Met Ball 2012: Debra Messing  |  Met Ball 2012: Gisele Bundchen |  Met Ball 2012: Mary Kate Olsen  | Bombshell Beauty | Premiere Orlando: What a Blast!  | Backstage Beauty: Paul Smith Fall 2012  |  WATCH: Kevin Hughes Shares his Moroccanoil Styling Secrets