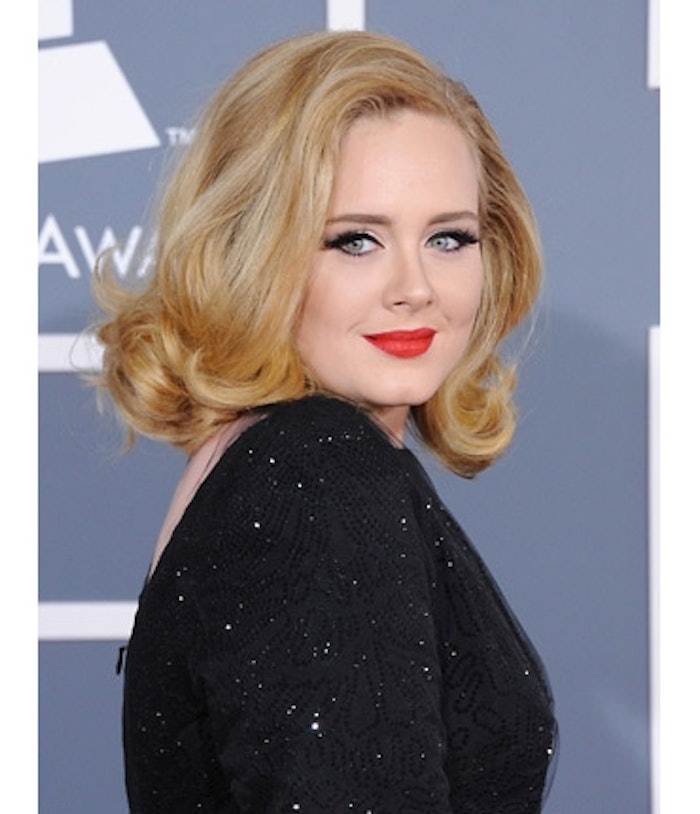 Thanks to her soulful voice and heart-wringing performances, Adele swept the Grammys this week, heading home with six of the coveted statuettes. But it isn't only her musical talent that's award-worthy, says Joico Guest Artist Cherry Petenbrink.  Her full, sexy '60s hairstyle also earned top honors for the night!
 
Petenbrink, who recently served as head hair color designer for the upcoming Hunger Games film starring Jennifer Lawrence, believes that Adele dominated the hairstyles seen at the Grammys—her hair was flattering, sassy and in-tune with her personal, retro style.
 
To get the look, Cherry recommends the following steps:
Apply Joico Body Luxe Thickening Elixir to damp hair.
Dry hair with a large round brush, lifting the scalp area to create maximum volume.
Switch to a medium round brush to dry the mid-sections and ends in order to create a loose curl.
Set hair on medium and large Velcro rollers, mist with Joico K-PAK Protective Hairspray and allow strands to cool for 20 minutes.
Remove the rollers and brush gently with a boar bristle brush.
Use the same brush to tease the crown area for additional volume.
Arrange strands with your fingers and mist once more with K-PAK Protective Hairspray.
 
Cherry also gives big props to Adele's color—a sultry honey blonde hue that perfectly complements her peaches-and-cream complexion and light green eyes.  To create the color using Joico Vero K-PAK Color products, Cherry recommends the following:
Existing level: 6/7 ginger blonde
Desired level: 9 golden blonde
Apply Joico Vero Light Powder Lightener + 10 volume developer in thin slices to all strands, ¼ inch from the scalp to ends.
Apply Joico Vero Blue Powder Lightener + 10 volume developer to scalp area. (If natural level is 6, use 20 volume developer.)
Process 30 minutes.
Shampoo, condition and dry 85%.
Apply Joico Vero K-PAK Chrome 2 oz. G9 + ½ oz. G8 + 5 oz. Activator scalp to ends and process 20 minutes.
Shampoo with Joico K-PAK Color Therapy Shampoo, treat with Joico K-PAK RevitaLuxe Bio-Advanced Restorative Treatment and style.
[Image:  Jon Kopaloff/FilmMagic/Getty Images]
Related: WATCH: Cherry Petenbrink Joico K-Pak Demonstration  | Katy Perry Wears Yves Saint Laurent Beauty at the Grammy Awards  |  Grammy Awards Hair: Al Yankovic  |  A Rock N' Blow Grammy Awards Weekend  |  Joico International Creative Director Damien Carney Stars in Drab to Fab  |  Joico Celebrates the 3rd Year of THE Hospitality Suite