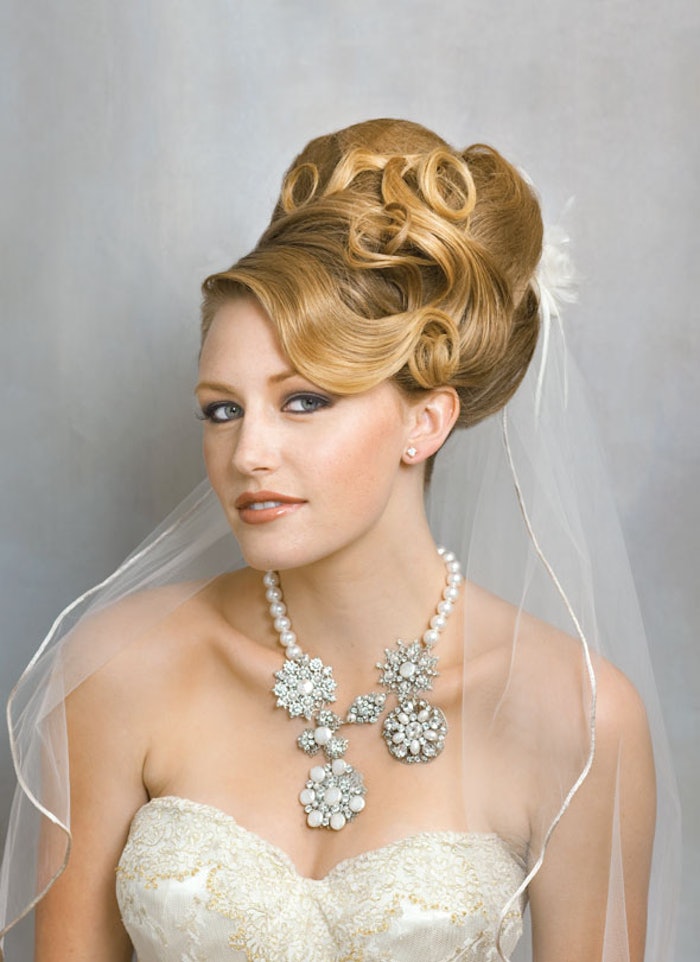 Artist: Tracey Stokes
Salon: Navii Salon
Photography:  Jean Sweet
Makeup: Jessica Sawicki
---
Step 1: Begin by placing electric rollers throughout the hair except for the top front section.
 
Step 2:   For more control, use a ¾-inch diameter curling iron on the top section in ½-inch partings, curling the hair from roots to ends.

Step 3: Spray each section with a medium hold setting spray before using the iron.
Photo of the set
Step 4: Remove the electric rollers and brush out the hair.
On the top section, brush out and use a comb to form a wave.
Place clips to set the wave.

Step 5:  Keep the clips in the front top wave section while forming the up do.
Apply hairdressing cream for more control and brush together the back section.
Step 6: Use a large doughnut form placed just below the crown area.
Tease the hair just above the doughnut and some of the hair below it, then pull the hair through the hole.
Step 7: Secure the form by wrapping the hair that is pulled through the middle under the bottom of the form and placing bobby pins.
Step 8:  Section off the back with a circle of hair all around the form, leaving the hair towards the front out.
Tease the hair in sections with a firm hand at the base of each section and a softer tease towards the ends.

Step 9:  Pull the teased hair into the middle as shown in the photo and secure with pins.
Note: There is still a section of hair all around the circumference of the form.
Step 10:  Smooth the remaining hair around the form with the exception of the sides and lower nape area.
Step 11: Backcomb the side section (opposite to the wave) underneath.
Step 12: Smooth the top of the side section over with a teasing brush and hold.
 
Step 13:  Spray the hair with finishing spray and smooth over the top, placing the hair up over the shape and secure.


Step 14: Divide the nape hair into two sections and crisscross them, pulling one of the sections up and over the front of the hair shape creating a headband effect.   


Step 15:  Pull the remaining nape hair and the other side section up into the top hair shape.
Form loose curls to be placed over the shape that has been created for the up do.
Take out the clips from the wave.
Step 16:  Finishing touches: Smooth through the front top wave and create a large curl at the end to pin at the side.
Arrange the curled ends of the side section and pin.
Final Photos:
---
Click for More Bridal Hair Styles Step-by-Step How To's: