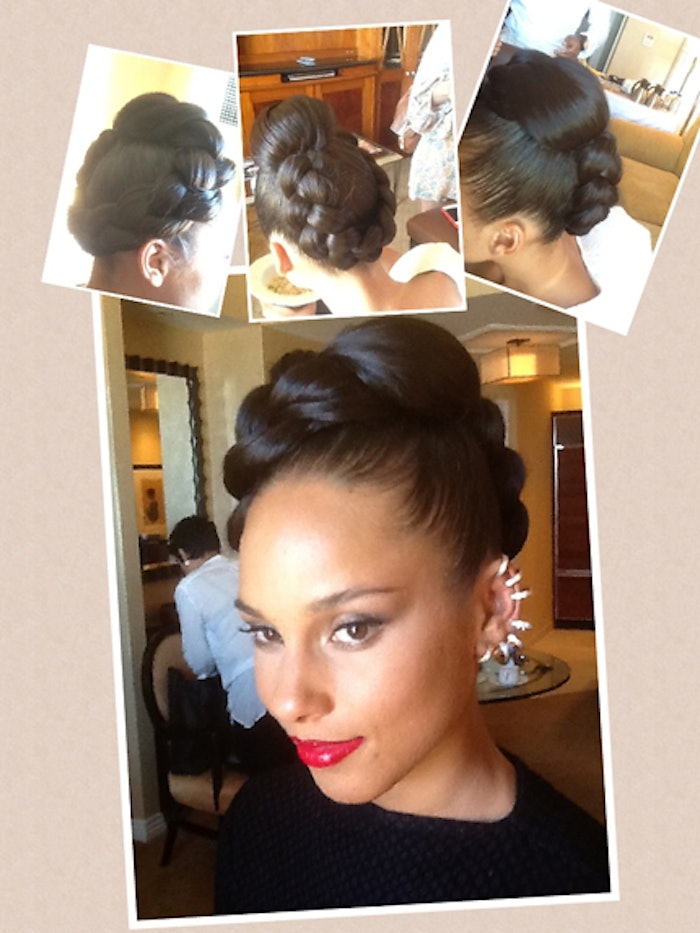 Tippi Shorter shares the steps she used to style Alicia Keys' hair for the Billboard Music Awards:
*Alicia Keys' hair was shampooed and conditioned with the smoothing collection from HAIR by Tippi Shorter.
*Ojon Revitalizing Mist was used to detangle and protect the hair from the hot Vegas sun.  
*Her hair was blown smooth using the Brazilian Heat After Dark 1900 watt AC motor dryer.
*Her hair was gathered in a high ponytail and secured with a bungee band.  
*Control pliable hairdressing wax from HAIR by Tippi Shorter was used to smooth the hair and prevent any flyaways.  
*Using a small amount of Control on my fingertips, I braided her ponytail, adding in pieces of human hair to make the braid bigger.  
*I wrapped the braid around, crown-like until I came up with the shape that she rocked on the red carpet.  
*I used baby bobby pins to secure the braid so it wouldn't move. 
[Images courtesy of Tippi Shorter]
Related:  Mega Hot How Tos  |  Olivia Wilde's Workout Hair  |  Met Ball 2012: Gisele Bundchen  |  Met Ball 2012: Marion Cotillard  |  Create Nina Dobrev's Beach-Meets-Glam Look  |  Braids on the Red Carpet  |  Braids Are All The Rage  |  Long Hair Tips from Kim Kardashian's Stylist Philip Wolff