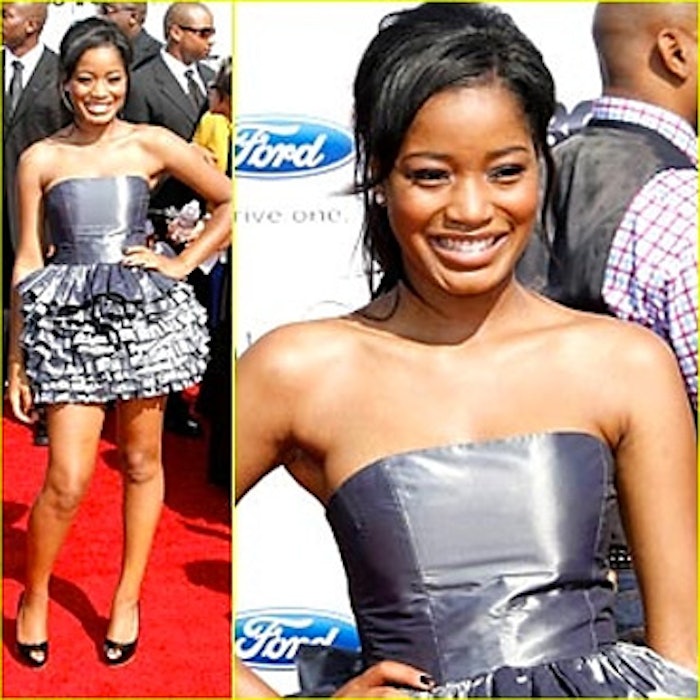 Mega Hot shares complete step-by-steps on how to achieve Keke Palmer's And Alicia Keys' stunning looks from the BET Awards!
Keke: Hair by Jamika Wilson
Using the Brazilian Heat 1" Tourmaline Ceramic curling iron, curl differently sized sections of hair (leaving some pieces natural and straight). Flat iron bangs with the Brazilian Heat 1 1/2" Tourmaline Ceramic flat iron.
Comb through with fingers, then section top half of hair from ear-to-ear.
Make two ponytails in the middle of the back section. Make a low ponytail and one right above in the middle. 
Go back to the first section in step 2. In the top, backcomb hair for volume and height, then make a bump. Use hairspray and secure bump down loosely with a couple of bobby pins over the middle ponytail.
Part your bangs to the side of choice, leaving a few pieces hanging on the side. Then loosely pull the remaining sides back into the two ponytails using hairpins to cover the base of ponytails. Tease ponytails to add volume and continue to use hairpins to cover the base of ponytails.
Alicia: Hair by Tippi Shorter
Shampoo and condition hair with 24 Hour Body by TRESemme.
Use a little 24 Hour Body Foaming Mousse by TRESemme just before blow-drying to give body to the hair.
Blow dry (Brazilian Heat Blow Dryer) with a round brush (Glamour by Monroe Brush).
Starting from the back, spray small sections of hair with Airplay designing hairspray by SUDZZfx and curl each section with a 1 1/2"curling iron (Brazilian Heat Ceramic Curl Iron).
Pin curl each section after curling to hold and lock in the spray.
Once all the hair has been pinned, release the curls and brush with a paddle brush (Margaux by Monroe Brush).
Brush the hair to one side and add a deep side part.
Finish the look with more SUDZZfx Airplay and a glossing mist--I used one by Ojon.
Images: Courtesy of Mega Hot