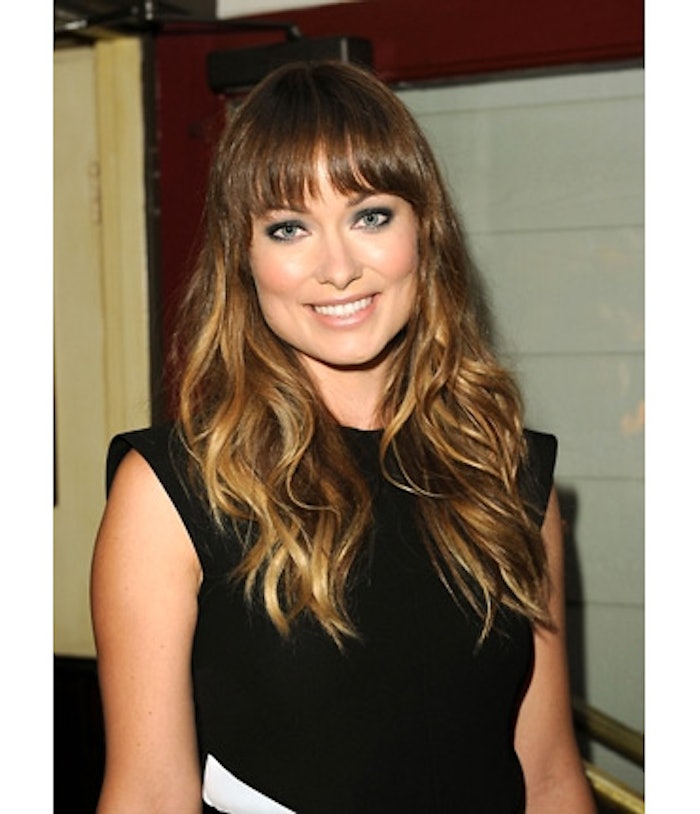 Olivia Wilde radiated red carpet glamour at the October 20th premiere of "In Time" in Westwood, California with hair by celebrity hairstylist David Babaii. David created a loose Bohemian chic wave to compliment her stunning ombre hair color.

To start, he applied a dime-sized amount of Couture Colour Pequi Oil to her clean, damp hair, massaging into her tresses for maximum shine. David then rough dried her hair with his fingers to add texture during the blow drying stage. To create her gorgeous waves, he divided the hair into 4 parts: top, sides and back leaving the nape area free. Starting at the nape area, he took 1-2 inch sections, combing the hair before starting (varied sizes create more texture and movement).

Using the FHI Heat 1 1/4" KORE Spring Grip Curling Iron, he wrapped these sections around the inside of the barrel, holding for 10 seconds. He then clipped each completed curl and proceeded to the next. After completing the entire head, David removed the clips and allowed the curls to relax and fall naturally into place. He then used his fingers to arrange, separate and style her waves, while sweeping her fringe to the side. He finished her style with IT&LY Hairfashion's Purity Design Pure Definition Hairspray which has memory hold for a long-lasting, flexible finish.
Image: Christian JENTZ/ Gamma-Rapho/Getty Images
Related:  Actress Olivia Wilde Arrives at Glamour Reel Moments 2011  | Olivia Wilde's Beachy Waves by David Babaii  |  Nicole Kidman's Royal BAFTA Hair by David Babaii  |  David Babaii Styles Scarlett Johansson & Nicole Kidman  |  David Babaii Re-Cuts & Styles "Glee" Star Dianna Agron's A-Line Bob  |  Liv Tyler's LA Premiere of "Super": Shiny, Healthy Hair by David Babaii